Posted on
August 4, 2011

by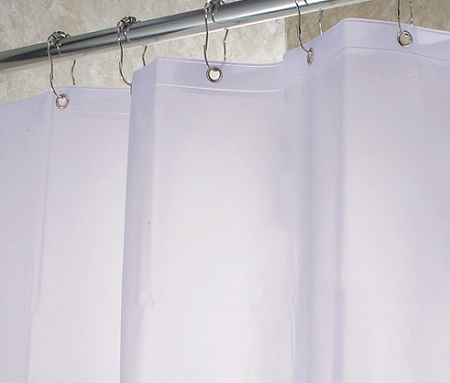 The past several years, I have gotten much, much better about doing the right thing as opposed to the easy thing where environmental awareness is concerned. I'm ashamed to say it, but there was a time when I would consider throwing away a mold-riddled jar of forgotten salsa rather than go through the mess and trouble of cleaning it to make it recyclable. No more, obviously. That said, none of us are perfect, and there are still times when my lazy or frustrated side wins out and sways me from a greener choice.
Like when my shower curtain liner starts to get more than a little scary looking. I know the right thing to do is to take it off its hooks and scrub it on the base of my bathtub, but you know what? That's a giant pain in the keister. And I can get a new liner for less than six bucks. I'm not proud, but I'll admit it: in the past, the new liner has usually won out. Which is ridiculous, obviously, because a new liner means an unnecessary new giant piece of plastic in my house and an old piece of plastic bound for a landfill. Plus, the last liner I bought smelled so frighteningly of chemicals for the first week or more that I used it that I half expected to grow a third eye (the Blinky the Fish kind, not the spiritual or yogi master kind) before the VOCs dissipated. Not good, obviously. All-around just a bad, bad plan.
Hence, when I started noticing the latest buildup of ugly-looking gunk on my shower curtain liner (despite regular doses of my homemade shower spray), I promised myself I would NOT cave to lethargy. No, I would clean it properly this time, like a good Greenist would.
As it turns out, cleaning your shower curtain liner doesn't have to be quite the odious task I've always considered it to be. Forgive me if I'm the last person here to realize this, but did you know you can actually put your shower curtain liner in the washer?? Dudes, you totally can. Seriously, am I the last person to realize this? Come on, now. A thin plastic sheet? In the washing machine? Maybe it is actually absurd, but I swear that never occurred to me.
If by chance I am not alone and it turns out this is not a "Thank you, Captain Obvious" idea, here's what you need to do. Just take the curtain off the hooks and toss it in your machine with a cup of baking soda and maybe a couple towels to give the curtain something to roll around and bat up against. If this is just a routine maintenance sort of thing, the baking soda may actually be all you need, but if there are some particularly persistent mildewy spots on your shower curtain, you'll probably want to add detergent too. After washing, just hang it back in your shower to dry, and voila—clean shower curtain liner; minimal effort. My favorite way to keep house.
Before I go, I should note a few things to save all of you the trouble of pointing them out in the comments. First, yes I know I should never have bought a shower curtain liner that off-gassed such frighteningly persistent fumes in the first place. But when I bought that liner (probably two years ago at this point), I'm not sure I'd even heard the term "VOC" yet. I wrongly assumed that a few days of fumes were an unfortunate but unavoidable side effect of a non-fabric curtain. I also know that ideally I should be using a natural fabric liner instead of a plastic one, but I've never been convinced those won't leak water into the rest of my bathroom while I shower, nor that they won't attract mold much faster than plastic. So lucky for me, there are lots of no-VOC and low-VOC options for plastic shower curtain liners these days (Tip: Look for EVA, rather than PVC), and I intend to seek out one of those next time specifically. And finally, I should remember that when I do replace my liner, the old one really doesn't have to be bound for the trash. There are lots of good ways to reuse a plastic shower curtain, so I'll be sure to keep it around and repurpose it.
So. What kind of liner is in your shower? And have you been tossing yours in the washer for ages now, or do you have another secret for keeping mold and other gunk at bay?