Posted on
January 23, 2009

by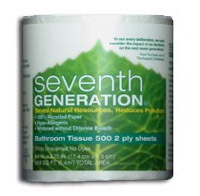 You know how I have that if you don't have anything nice to say, don't say anything at all review policy?
Well, I've been struggling with how to handle the topic of a certain brand of recycled toilet paper I tried recently (not Seventh Generation, we like Seventh Generation) that is so bad that if you used it you might be turned off to ever using recycled toilet paper ever again.  Seriously, I have some sheets of sandpaper in the garage that are softer.  But, I promised that if I didn't have anything nice to say about a green product, I wouldn't say anything at all.  So, here's what I'm saying:
I'm saying that Seventh Generation Recycled Toilet Paper is good.  It's not the softest brand out there.  It's recycled toilet paper.  It's never going to be that cushy fluffy paper kids in commercials stuff down their pants while rollerskating, or cartoon bears rave about.  No angels are quilting this stuff.  But it's usable.  It may take some time to get used to, but it's useable.  You won't injure yourself using it (cough, unlike some other brands out there, cough).
Seriously.  That certain brand of TP we tried was so bad that even though I bought a 6 pack of it, after two rolls, we just couldn't stand it anymore.  So I am now using it like paper towels until it's all used up.  It's great for cleaning grime off the counter, because it's so abrasive that it scrubs really well.
Are we clear?  Seventh Generation 2 ply TP = OK.  There's a mysterious brand of absolutely awful recycled TP out there that isn't.  So if you try recycled TP and think, NEVER AGAIN, give Seventh Generation a try before you give up completely.  CVS's brand of recycled TP is okay too.  I know there are some others out there that are good too, but these are the two brands that are available here.
I warned you, and I didn't go back on my policy.
If you want to learn more about why it's important to use recycled paper products, read about it here.