Posted on
April 30, 2009

by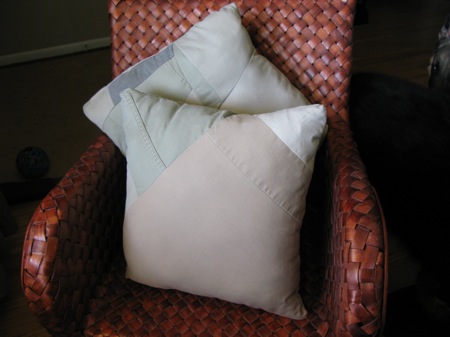 We were in desperate need of some throw pillows.  I eyed some pretty ones at the store, but, for one thing, the pair I liked was $60, and I'm a tightwad, and for another, with two dogs and a cat, everything we own needs to be rugged, and the pretty ones were made from a delicately woven fabric.  And, whenever I shop, the great green mantra goes through my head: Why buy new when you can make do with what you have?
I had a stack of J's worn out old khakis in the basement.  I cut them in pieces, avoiding the worn out patches at the knees and any stains.  I stitched the pieces together like a crazy quilt to make big enough pieces of fabric to form both sides of each pillow.  Then I sewed them up, and stuffed them with fiber fill from some old bed pillows that had seen better days.
I'm still learning how to use my sewing machine, so they certainly aren't perfect, but they will do.  I love the textures of the old seams and pocket pieces and the color variation.  And, I also love that they didn't cost me anything or require any new materials (other than thread).
What's your favorite way to make do?  How do you avoid buying new things?