Posted on
October 21, 2010

by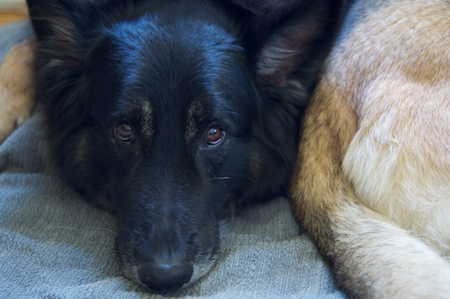 Argo loves his blanket.  He's taken custody of an old comforter and he loves it more than any dog bed he's ever had.  Sometimes, he'll share it with Stella, but it is unmistakably his.  And while he seems to take great pleasure in lying on his blanket when it's fresh out of the wash, he mopes like crazy when I take it away to wash it.  I try to wash it often, but it is an entire load of laundry in and of itself and I don't always have time.

Molly Mutt sent me a sample of their Dog Bed Freshener and I couldn't be happier with how well it works.  It keeps Argo's blanket smelling fresh between washings, with minimal effort.  The freshener uses enzymes to fight odors, so it's not just masking one smell with another.  It has a light soapy scent that freshens the whole room when I use it on Argo's blanket.
The ingredients are:
water/agua, caprylyl/capryl glucoside, sodium lauryl sulfoacetate, glycerin, sodium coco-sulfate, mentha piperita (peppermint) oil, rosmarinus officinalis (rosemary) leaf oil, vanilla planifolia fruit oil, cinnamomum zeylanicum (cinnamon) leaf oil, xanthan gum, guar hydroxypropyltrimonium chloride, gluconolactone, sodium benzoate
How do you keep your pet's bedding smelling fresh?