Posted on
January 16, 2008

by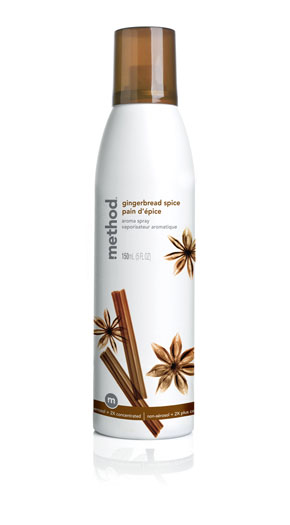 You know those hints you hear about making your house smell homey, like boiling cinnamon sticks or baking cookies? method's Gingerbread Spice Aroma Spray is like all that homey goodness in a can.
I usually steer clear of air fresheners, and method's vague ingredient lists have always made me curious as to their position on pthalate use in their scented products. But there was a great post on method over at Broomhuggers awhile ago. I asked if they knew if Method products contained pthalates, and they were kind enough to direct me to a method blog entry discussing The Household Hazards report:
"The report identified MEA, alkylphenol ethoxylates, phthalates, the glycol ethers EGBE and DEGME, and quaternary amine disinfectants as hazardous chemicals linked to the development of asthma and reproductive defects in the people that use them and their families. Naturally, method uses none of these compounds in its products."
method also doesn't test on animals.
method Aroma Sprays attack odors without the use of chemical propellants found in other sprays to eliminate the source of the odor. By now, you all know about my smelly pets. Problem solved.
The Gingerbread Spice Aroma Spray is a seasonal special, so you may want to order it online or check your local stores ASAP to see if they have any left in stock. The scent is cozy and warm, not overpowering, and doesn't have that fake air freshener smell. I still love making tea out of boiled cinnamon sticks, but when I don't have time, I've got my secret weapon. I wish everything smelled like this.