Posted on
March 15, 2012

by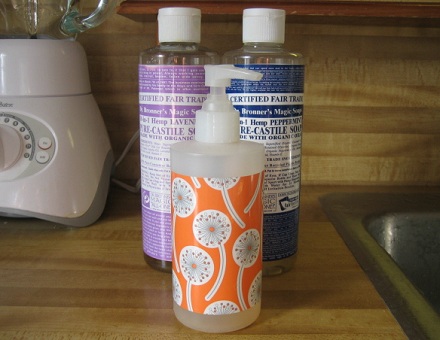 I kind of have a thing for soap. I mean, it's nothing I think to put on my Christmas list or mention on my online dating profile, but I have a hard time walking past a display of handmade soaps without sniffing (if not buying) at least one of them, and probably a full third of my Etsy purchases have been bar soap-related. I've even written about the virtues of bar soap here more than once.
As much as I love bar soap, however, in my kitchen, the tidiness and ease of a liquid hand soap just makes more sense. And there are lots of green, eco-friendly hand soaps on the market, many of which I've purchased over the years. I haven't bought liquid hand soap in over a year, though. Why? Because my new favorite hand soap is one I mix up myself from something I already always have under my sink.
You may or may not remember the post I wrote about castile soap a while ago. It's some amazing stuff, castile soap. It's about as environmentally friendly as it is versatile. I listed several uses for castile soap in that previous post, but one simple use in particular has become so routine for me that I feel it bears mentioning again.
Liquid castile soap is highly concentrated, meaning a little goes a long way. To use castile soap as hand soap, you don't even have to apply it full strength. Instead, I fill an old soap dispenser about 3/4 full with water and then top it off the rest of the way with castile soap. It looks really thin and liquidy in the bottle, but it still lathers in my hands just fine. And because each refill requires so little of it, I've been using the same two bottles of castile soap since I wrote that post in 2010, and I've still got a bit of time before I need to buy some more.
I love my castile soap hand-washing concoction for all the reasons I already mentioned, but if I'm being totally honest, what really keeps me going this economical and eco-friendly route is the scent. I have both the lavender and peppermint varieties of Dr. Bronner's liquid castile soap, and I used to switch off and alternate, reaching for the lavender one time and peppermint the next. And then finally, something brilliant and obvious occurred to me: I could mix them! My hand soap could smell like my favorite dish soap (Seventh Generation Lavender Floral & Mint)! So I did, and it does. I can't believe I didn't think of that sooner.
So. Make your own hand soap, using other soap. It's a simple idea but a super frugal and effective one. If you haven't already, I recommend you give it a try!