Posted on
May 1, 2008

by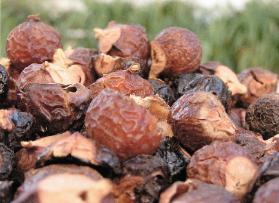 After the whole Ecover/dioxane "scandal," I decided I'd look for another laundry detergent option.  Honestly, I'm not too upset about Ecover.  I still think they are a great company and they have great products, but if you're going to go green, try to go as green as you can get, right? 
I switched to Method, which was working great, but then I revisited the Organic Consumers Association's dioxane chart and realized that when it comes to dioxane, Method is no angel either (and I'd probably be better off sticking with Ecover).  Still, there are other options for laundry soap out in the world and I decided I'd keep searching.
So, I washed my clothes with nuts.  Really, I did.  Maggie's Soap Nuts (for some reason there's a picture of a woman breast feeding on the website — just so you know) are bizarre, but seriously cool.
From Maggie's Pure Land:
Maggie's Soap NutsTM are the only laundry soap that grows on trees!  Truly effective, 100% natural and safe for your most sensitive skin.  Soap NutsTM are the dried fruit of the Chinese Soapberry tree.  They contain saponin, a natural cleaner used for thousands of years to clean clothes, just like the plants used by Native Americans for washing.

Simply put a few Soap Nuts into the included cotton sack and drop it in your laundry. Your clothes come out clean, vibrant, and soft.  Replace your laboratory detergents and softeners with the soap made from Nature by Nature. Your clothes, your skin, your family, and your planet will thank you.
For some reason, I didn't get the cotton sack that's supposed to be included in my box of soap nuts, which felt a little like looking for the secret decoder ring in your cereal box only to discover you're stuck with just cereal.  But I tied the soap nuts up in an old sock and they worked just fine.
I threw a pair of disgustingly dirty socks into the wash and they didn't come as clean as I would have liked, but the box says to use an "oxygen bleach" (maybe OxyClean?) on very soiled clothes.  And the jeans that got splattered with mud when I took Argo to the dog park last week came clean on the first try.
Where soap nuts really seem to excel is odor removal.  I accidentally left one of my favorite shirts in a wad of wet towels in the basement and even after washing it once with regular detergent, it still smelled like mildew.  After washing it with soap nuts, it smelled like . . . nothing.  Same for my husband's biking shirts.
The other thing that's really cool is that without using dryer sheets or fabric softener, my clothes came out super soft and static free.  I haven't tried hanging soap nut washed clothes out to dry yet (we had some questionable weather) but I'm expecting the same soft results when I do.
There are several ways to use soap nuts.  I used four and washed in cold water.  You can use them for 2-3 loads of laundry and then compost them when done.
I'll still probably use Ecover for heavily soiled laundry, but I think soap nuts are a keeper.