Posted on
May 16, 2007

by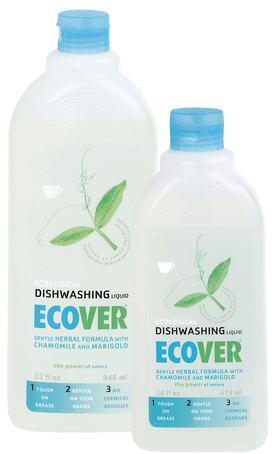 A few weeks ago, I posted a review of Ecover's Delicate Wash. I'm still in love with it. I've been washing a lot of clothes by hand just to have an excuse to use it.
So when Ali7 commented about how much she likes their dishwashing liquid, I knew I had to give it a try. She's right. Ecover Herbal Dishwashing Liquid is "brilliant."
A little goes a long way. The directions say that one squirt will clean a whole sink full of dirty dishes. It has a soft marigold scent and actually feels soothing on hands. It cuts grease and leaves dishes squeaky clean.
And the best part – it's plant based, completely biodegradable, and won't leave any chemical residue on your hands.
Look for Ecover products in your local grocery store, or buy here.
Another Eco-Friendly Tip from Allie.