Posted on
July 2, 2009

by

Please welcome today's guest poster, Stefanie, who blogs at Stefanie Says.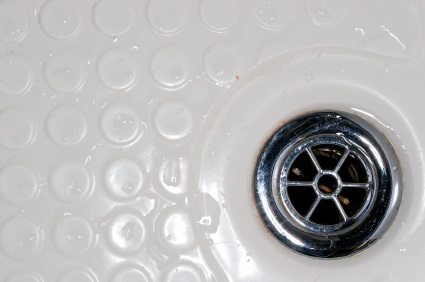 Science has never been my strong suit (I was an English major; words have always been more my thing), so I remember how confused I was the day in college when my Chemistry professor's TA called to ask me if I'd be interested in tutoring the class. "Me? You must have the wrong number," I wanted to say. It's sort of how I felt when Allie and Courtney asked me to guest post about eco-friendly cleaning products. Don't get me wrong. I don't quite live in filth and squalor, and I do care a great deal about the planet and my impact on it. But if I were making a list of my areas of expertise, eco-friendly cleaning products wouldn't be at the top of it. Need someone for your Gilmore Girls trivia team? I'm your woman. Eco-friendly cleaning products? Well, we shall see.
That disclaimer out of the way, I do think there's a benefit to my amateur greenist status. As Allie says, going green is a learning process, and I'm looking forward to learning along with (and from) the rest of you. Like many of us, I'm trying to make more responsible choices whenever I can, but I generally don't think about those choices until I'm faced with them. For example, when I'm staring at a shelf full of drain openers at the store a few hours after taking a shower in three inches of standing water.
It doesn't take an environmental scientist to suspect that any of those clog-busting products on the market are packed with chemicals that require a warning label. But how bad are they, really? Having been an English major and not a Chemistry one, I've never known the specifics, but this is the Internet age; information like this is easy to find. The active ingredient in most commercial drain cleaners is sodium hydroxide, also known as caustic soda or lye. Whenever I've guiltily dumped a bottle of drain cleaner down my sink or shower, I've worried a bit about where it's going and what it's doing when it gets there. (Blinky the three-eyed fish on The Simpsons comes to mind.) As it turns out, according to the federal Agency for Toxic Substances and Disease Registry, sodium hydroxide isn't actually considered a pollutant specifically, because it breaks down fairly quickly into other, relatively harmless elements on contact with water or moist soil. But I think we're all smart enough to know that still doesn't give drain cleaners a green light.
Obviously sodium hydroxide has other problems, aside from environmental ones. It's a dangerous irritant that can cause severe burns on contact. Inhalation can cause respiratory problems as well. And in an old house like mine, repeated use can damage and corrode drain pipes, causing much bigger issues than a clog later on.
Safer, environmentally friendly alternatives are available, of course. I'm hesitant to mention any products by name because I haven't actually yet tried them myself, but a quick Internet search will turn up several. You can also try a home-made remedy: pour a half cup of baking soda down the drain, followed by a half cup of white vinegar. Cover the drain (or close the stopper) and let it sit for at least a half hour; then flush with a kettle of boiling water. The reaction of the baking soda and vinegar is the same as you've seen in that volcano experiment you may have tried as a kid, and it will help blast through whatever's gunked up in your drain. (Side note: I never actually tried this experiment as a kid myself, but where my own memories have a gap, I can often substitute a TV memory quite handily, and I remember this experiment causing impressive results on The Brady Bunch.)
The problem with many of these natural and home remedies is that for a tough clog, they will never be as immediately, satisfyingly effective as the nasty chemical options. Natural solutions work well to keep drains clean when used on a regular basis, but they may not be powerful enough for a clog that's already built up.
In that case, one product I can personally recommend is the Zip-it gadget. The Zip-it is a long, flexible strip of plastic edged with little spikes. Slide it down into your drain, and it will pull out all the hair and gunk collected around the stopper and the area of pipe below. It's brilliant in its simplicity, of course: why pour anything into your drain to try to force a clog down when you can actually pull what's clogging the drain out instead? In my case, what's typically clogging my drain is a mass of long brown hair, slimy with remnants of shampoo and shower gel. Pulling something that looks not unlike a small wet rodent out of the drain is not for the faint of heart, but it's immensely gratifying nonetheless.
The Zip-it is billed as disposable, but since I hate to throw away plastic more often than necessary, I've tried to get a few uses out of one. It can be done, if you have the patience to clear all the hair and debris from the plastic spikes, but it's hard to get more than a few uses out of one Zip-it before the spikes become worse for wear.
I first found Zip-its in the cash register lines at Menards for about two bucks apiece. Since then, I've seen Target start carrying them as well, at twice the price, but with two Zip-its per pack. The Zip-it web site lists several retailers as well, so there's sure to be one somewhere near you.
Do you have another safe, environmentally friendly solution to recommend? Tell me, what methods have you used to keep your drains running clean?