Posted on
November 5, 2007

by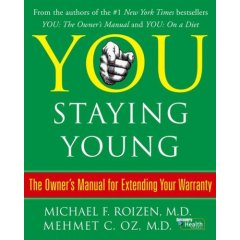 Dr. Oz (You, The Owner's Manual is one of my favorite books) was on Oprah today to promote his new book and talk about longevity and anti-aging techniques.  A lot of his tips for a healthy house sounded familiar, and he had a few new ones too.  It's  a great reminder that going green is good for your health.
Take off your shoes when you enter the house so you don't track toxins and pesticides through your living area.
Don't microwave in plastic, because plastic chemicals can leak into food.  Use glass.
Use baking soda and vinegar to clean around the house.
Aerate dry cleaning outside before wearing.
Dehumidify damp spaces to prevent mold growth.
Don't store old paints in living areas.
Use natural cleaners (one of the ones show was Parsley Plus!).  Don't use cleaners that say to immediately call a doctor if you come into contact with them.
Natural cleaners are also important because keeping the world safe is important to our physical health.
Open doors and windows regularly to ventilate your house.
Use houseplants to clean the air in your house.
The show was great.  If you missed it, you can read recaps and watch clips here.