Posted on
October 27, 2011

by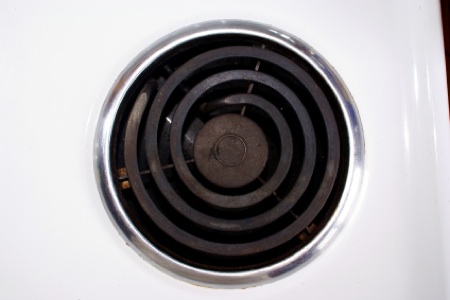 I've written enough posts about natural cleaning methods that I really shouldn't be surprised anymore when the simplest of solutions is actually an effective one. And yet? I still find myself now and then trying a new, non-toxic way to clean something and saying, "Holy cow. That actually WORKED!" I think the last such reaction was last Thanksgiving weekend, when I quickly and nearly effortlessly wiped (*cough*) um, eleven years of nuked-on gunk from the inside of my microwave just by cooking some vinegar and water in it first. This weekend, I had one again.
I was digging around online looking for a way to get my electric stove's burner bowls silver and shiny again without simply covering their crusty, blackened surfaces with foil to hide their sad state nor giving in to the urge to toss them and start all over with new ones. Everything I found said "Scrub with [this]" or "Scrub with [that]." People, I have tried scrubbing those dang burner bowls. It gives me a little arm workout, which is good, I suppose, but when the result is burner bowls that aren't much cleaner than when I started, I'd rather skip the scrubbing and take a yoga class for my arms instead. So when I read that I could clean my burner bowls just by boiling them in baking soda and water, I said, "Sign me up!"
Not really. There was no signing of anything, of course. But the lazy way to clean something is always my favorite way, so I quickly gave it a try. I filled my biggest pot with warm water and stirred in about a half cup of baking soda, and then boiled it on the stove with my burner bowls soaking in it for a good 20 minutes or so while I happily ignored it and did other things. When I removed the bowls (carefully, with tongs, because they were crazy hot at that point, obviously), they still didn't look very clean, so I was disappointed and skeptical, but lo—just a wee bit of not-too-aggressive rubbing with a wet scrubby sponge thing and they were nearly good as sparkling new! It was like magic, people. I am impressed.
Of course, some people would say that the really right way to avoid having to scrub your burner bowls is to wipe them promptly any time anything spills into them, so they never accumulate months (years? yikes…) of charred splotches in the first place. But if you ask me, that advice is about as useful as telling someone that the best way to cure a hangover is not to have that last glass of wine in the first place. Sometimes we have the best of intentions, friends, but the Bad Idea Bears have other plans. And when that happens, it's good to have a little trick up your sleeve.