Posted on
March 2, 2011

by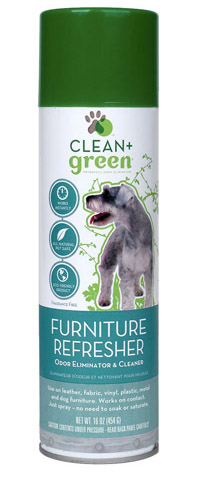 When I first glanced at the free sample of Clean & Green odor eliminator I received in the mail, my first thought was, "Uh-oh." See, the can has a picture of a cute, furry dog on it, and while I'm a big fan of cute, furry dogs, I don't own one myself. So I wondered if this odor eliminating spray was meant only for pet odors, because if it was, I wouldn't be a good candidate to review it.
But! I may not have pets, but I do have stink from time to time. The couch cushions, the carpet, the seats in my car — they all get used, and therefore they all get stinky. And fortunately, while Clean & Green IS meant primarily to eliminate pet odors, it works on other less-than-pleasant smells as well.
Last weekend I had a big de-stinkifying session, in which I pulled all the cushions off the couch, gave them a whiff for comparison's sake, and then sprayed them down with a healthy dose of Clean & Green. I left them out for a little while so the spray could work its magic. A couple of hours later, I stuck my nose in there to see how well the spray was working — and smelled nothing.
Therein lies the major draw of Clean & Green. Even back when I used other commercial "fabric refreshing sprays" — which is just code for "flowery-smelling clouds of toxins" — I wasn't crazy about the fact that they didn't really eliminate smells, they just covered them up. My couch may have smelled like lavender for a little while, but eventually it would just end up smelling like lavender mixed with whatever musty smell I'd been trying to get rid of.  Gross. Clean & Green, on the other hand, is unscented. It took care of whatever teeny particles were lingering around in my cushions, causing them to stink, and returned my furniture to its normal-smelling glory.
Given the number of scented cleaning products on the market today, it's unsurprising that people now associate a particular smell with cleanliness. Clean doesn't have a scent, people. Clean should smell like nothing. And I love that Clean & Green clears up the unpleasant odors so I can fill my home with naturally good smells, like the bread my boyfriend is baking in the kitchen right now. (He's so domestic.)
The ingredients of Clean & Green are: Cane sugar derivatives, proprietary blend of botanical extracts, hydrated cellulose (cleaning agents), purified water, and nitrogen. All Clean & Green products are non-toxic, non-flammable, non-corrosive, and non-carcinogenic. They're free of hydrocarbon solvents, isoprophyl alcohol, oxidizers, and volatile organic compounds.
There are many different varieties of Clean & Green sprays, and they retail for no more than $10. It worked great for me, and if you have a pet and have tried this spray, I'd love to hear how well it worked for you!