Posted on
September 4, 2008

by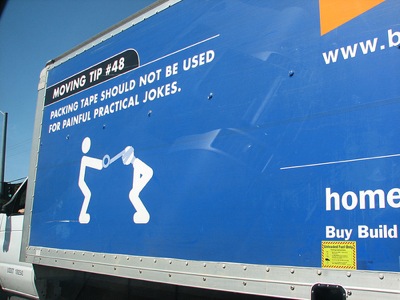 The following is a guest post from Mark, who's an old college buddy, and one of my favorite bloggers.
My husband and I are in the process of buying our first home. As I write this, I'm looking at the giant check we need to complete the purchase and sale agreement this weekend. I think it's the biggest check I've ever seen, but it's only five percent of the purchase price, so even bigger checks will be in my immediate future. It's an exciting time, but I can't stop feeling a little guilty about the whole process. I need to convince myself that buying this house can be an environmentally sound decision.
First, moving seems like such a waste. We've moved a lot in the last few years (California, New Jersey, and Massachusetts) and each time I cringe at all the boxes. In our cross-country moves, we managed to share truck space, so at least we weren't sending a semi truck across the nation just for ourselves. And we did the move from New Jersey to Massachusetts ourselves, in a fairly small rental truck. We filled the truck, so that didn't feel too wasteful. I think there was a stack of moving boxes in the recycling every week for two months.
I've found a couple of lists of suggestions for making your move more green. Some of them are immediately obvious, and others I hadn't considered before. The Eco Worrier suggests offering perishables to your neighbors to keep from wasting them.  My impending move is a short enough distance that I'll just bring my perishables with me, but I remember frowning when I poured most of a gallon of milk down the drain when we left California. Tim Johnson at About.com suggests renting reusable packing crates instead of using cardboard boxes.
Currently, we live in a small apartment. It's about 800 square feet. I complain about not having enough space, but I'm glad that we're living in a small space. Our new house is nearly 2300 square feet, which is a lot more space than we need right now. It's hard to justify the size to myself, but I've got a list of reasons to convince myself it's not as bad as it sounds:
1. Hopefully, we'll be staying in this house for a very long time. We plan to have children, and this house will definitely be able to meet any space needs my family could have in the future.
2. The house was built in 1900, so its impact has been spread out between multiple generations of families.
3. The house is within walking distance of a train station, so my husband's commute will be entirely on public transportation now, instead of needing to drive to public transportation.
One thing I'm really looking forward to is that our new town uses single stream recycling, and there's a weekly pickup. Our current city only does a recycling pickup on alternate weeks, so I'll be glad that my pile of recycling will be taken more often, especially since going from 800 square feet to 2300 square feet means there will be a lot of boxes from IKEA in my future.
Now I just need to worry about my walls. I think there are enough ugly wallpaper borders in my new house to fill a whole new landfill. Maybe the previous owners were the heirs to a wallpaper border fortune? That's the only explanation I can imagine!

Mark blogs about life, love, and the war against wallpaper borders at Chronicle of a Gay Marriage.
Photo by L. Marie, through the Creative Commons Attribution License.