Posted on
July 20, 2011

by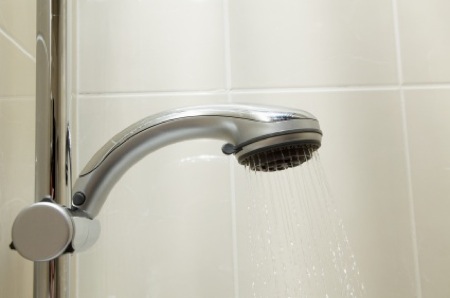 My shower is annoying. Whoever built it obviously didn't understand the laws of physics very well, because water tends to pool in it instead of draining. That, combined with the poor ventilation in my bathroom, means the shower is tough to keep clean. (Related: I may need to move.)
Anyway, if I don't soak up all the excess water with a towel every time someone bathes in there, my shower grout will begin to turn … well, let's just say not white. Not wanting to buy expensive and toxic grout cleaner (and since I rent this place, I can't just rip it all out and start over, which is what I really want to do) I set out on a little experiment. 
First, I armed myself with a towel, a large bottle of hydrogen peroxide, an empty spray bottle, and an old toothbrush bound for the trash can. I poured the peroxide into the spray bottle, dried all the excess water out of my shower, and then sprayed a heavy mist of peroxide directly onto the grout. I could immediately see it start to bubble away, so I left the room for a while, thinking it would be restored to shiny white glory by the time I returned.
But it didn't. The grout looked pretty much the same, even after I scrubbed it a bit with the toothbrush. I wondered whether this was going to work, but I decided to keep at it — every time I went into the bathroom, I sprayed another layer of peroxide into the grout, aiming the nozzle of the bottle very close to the grout every time I sprayed.
After three days, all traces of mildew were gone from my grout. Amazing! It does take time, but it's not labor-intensive at all — it's just spraying to coat the grout every time you happen to wander into the bathroom. The hydrogen peroxide needs that time to eat away at the junk discoloring your grout, so if you don't see an improvement right away, keep at it.
To keep my grout from getting dirty again, I continue to spray the shower with hydrogen peroxide after every shower. It's the same effect you'd get from expensive bottles of shower cleaner, only this cost me less than a dollar, plus I didn't send any toxic chemicals down the drain.
What are your green bathroom cleaning secrets?