Posted on
November 30, 2011

by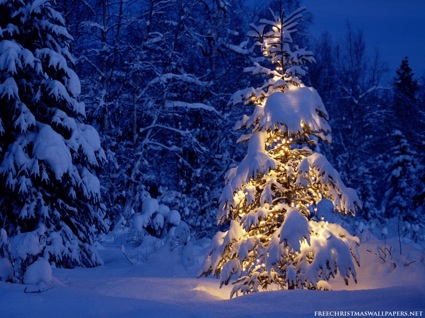 Image credit: freechristmaswallpapers.net
OK, fake trees may be green, but in color only. If you're looking for the most eco-friendly Christmas tree out there, you're better off dusting off your axe and heading out to a local Christmas tree farm. 
It may not seem very eco-friendly to chop down a tree, but look at it this way: Real trees are renewable and sustainable, unlike the plastic trees you can buy at the store. And hey, I get it: It's way easier and cheaper to buy a fake tree and store it in the basement until it's time to bring it out every year. Unfortunately, this is one of those times when making the green choice isn't necessarily the easiest option.
If you choose to set out and get a real tree, make sure to visit a local Christmas tree farm. Who knows where the trees on the store lot came from? Chances are they weren't farmed locally, which means they were transported there somehow. Local is always greener.
If you do have a fake tree, be sure to keep it as long as possible, and when you want to get rid of it, donate it to a local charity or Freecycle it.
As for decorations, there are ways to keep those green, no matter what kind of tree you have:
Popcorn and/or cranberry strands are always fun projects for kids, and they look festive on any tree.
Organize an ornament swap with your friends or family. Everyone brings an ornament they already owned, then switches so everyone ends up with something new to them.
Make new ornaments out of things lying around your house. You'd be amazed at how creative you can get, especially if there are old photographs to work with!
Will you go with a real or fake tree this year? How do you decorate it?