Posted on
December 22, 2008

by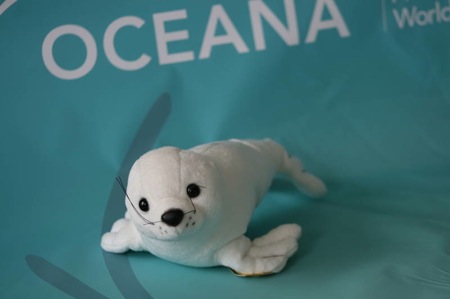 Oops!  You forgot someone on your list, or just have not been able to think of a good gift.  Charitable donations can be a nice way to honor your relationship with a friend or loved one over the holidays.
Many gift donations include a note, card, or some small physical gift to give to the recipient.  While those items probably won't get to the recipient in time for the holidays, you can include a small gift of good organic, fair-trade coffee, chocolate, or tea, a note, or letter telling them how much you value them and that a donation has been made in their honor to celebrate the holiday.
Here are a few eco-friendly and/or humanitarian charities to consider for holiday gift giving:
Oceana allows you to virtually adopt a marine creature for a loved one ($35-150), and have a cookie cutter or stuffed animal of the creature sent as a gift.  Your donation goes to protecting marine life and habitats.
For a $99 dollar donation, EWG is sending out a Pollution Solutions Gift Bag full of reusable and organic goods and coupons to help your loved one go green.  EWG and its partner organization Pets for the Environment do an amazing job testing, studying, and rating products and chemicals to make sure they are safe for humans and animals, and campaign for safer environmental conditions.  If you've ever checked a personal care products on their Skin Deep database, you've seen the benefits of donation dollars at work.
The World Wildlife Fund has virtual adoption gift cards that allow the recipient to choose which animal they would like to adopt.  For a $50 donation, they'll get a plush animal, photo, certificate, etc. plus, online benefits like screensavers, wallpaper and icons.  There are 80 animals that can be symbolically adopted.  Your recipient will receive a certificate instantly on the date you choose.  Also, check out the free holiday e-cards on the World Wildlife Fund website.
Donate a crocodile in honor of your Aunt Edna.  Oxfam's donation program allows you to donate livestock, supplies, trees, and other items to families who need them.  Gifts range from $18-over $500.
NRDC will send a paper or e-card to your recipient.  Named by Worth Magazine as one of the 100 top charities, the Natural Resources Defence Council "works to protect wildlife and wild places and to ensure a healthy environment for all life on earth."
The Sierra Club has a gift membership program that allows you to print out a certificate to send or bring with you to present as a gift.  The recipient will later receive local membership, member travel opportunities, Sierra magazine, a backpack, and discounts on Sierra Club products.
Friends of the Earth has a gift membership program also.  Recipients will receive a welcome letter and a copy of their newsmagazine.  Friends of the Earth fights for a "healthy and just world."
The American Civil Liberties Union protects the rights and freedoms of the American people.  A donation in honor of a loved one will be noted with a card including a message you write.
The American Cancer Society will send a card to your loved one when you make a donation in their name.  Funds raised are used for everything from education to research and lobbying.
For $1 a tree, Mokugift will plant a tree and send an e-card to the recipient helping them start a virtual forest.  They will be encouraged to plant trees for other people as well.  If you haven't sent out holiday cards yet, this would be a wonderful alternative.  This program is endorsed by the United Nations Environment Programme.
And, of course, you still have time to donate to Neil's Cambodian Children's Fund project.
What's your favorite charitable cause?