Posted on
April 17, 2012

by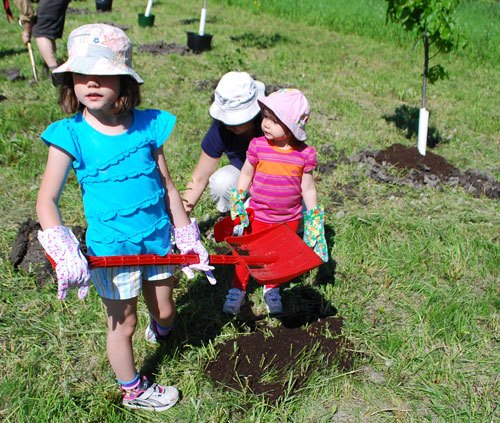 Though every day should be spent celebrating the earth, Earth Day comes every year on April 22nd. Those most affected by the environment are, of course, our children. Many schools, libraries and zoos around the world celebrate a form of Earth Week, concentrating on recycling, composting and taking care of the planet. If your child has a birthday around this time, or if you are thinking of a spring party, why not turn this into a fun party honoring the earth? It's easy to do, they'll have fun, and (shhhhhh), your child and her guests will learn some important lessons they can take home with them.
Here's some ideas to make your party a success.
Invitations and Partyware
Cut out rectangles from paper bags and fold in half. Have your child draw an outdoor scene on each one, such as trees, a sunset, mountains, etc. Inside, write the party details, and add a seed packet of flowers or vegetables inside. If the party will be small and you can hand-deliver the invites, place the invitations in a small recycled container.
Have your guests bring something to the party, such as a can donation to a local food bank or some recyclable materials like egg and washed milk cartons (which you can use for an activity – see below).
At the party, use your own plates and silverware, which will of course be washed. If you're uncomfortable with this, use recyclable party supplies or even those that can be composted, such as plates made out of palm leaves, corn starch or sugarcane fiber.
Bugs, Leaves and Dirt
If you live in an area where spring is well advanced, use this opportunity to have a garden party in your backyard or the park. Encourage guests to carpool, walk, bus or bike to your home or the park. There's a lot of fun activities to be had here!
With a bucket in hand, send the kids scavenging in the park for old leaves, grass and flowers. Have them return to make a nature collage.
Go on a nature hike, and bring along a bird or butterfly guide book and have the kids try and find some of the wildlife.
In your garden or a local community garden, have the kids plant a row of flowers or vegetables. Give them little watering cans to water their plants or seeds (they can take these home). Send pictures to the parents a few weeks later to show the progress. If they planted vegetables, send them a bouquet of what they planted at harvest time.
If you are having a birthday party or even an outdoor tea party, focus on a nature theme – a ladybug party is one idea. There's also fun themes and ideas for butterflies, caterpillars, farm animals and fruits and vegetables. Pick one and plan your activities and food around it.
With paper and water paints, show the kids a scene in front of their eyes and have them create a painting.
See if the local park is going to have a tree planting day. You can coincide your park party with it, and encourage all the guests to devote some time volunteering. Hey, if it means shoveling and playing with dirt, everybody will love it! (Our kids did, though they look a bit tired in the picture above.)
Set up some picnic blankets or decorate a picnic table for the food. Which leads us to …
Nature's Bounty – Earth Day Food Ideas
What child doesn't love digging in mud? My 3 year old decided last week to transfer a good part of the flower bed dirt to the patio, where she made "mud soup" – we all pretended to have some. This gave me the idea of "compost tea" which is, of course, a real term, (a liquid compost mix for your plants.) Our will be a bit more appetizing!
Compost "Tea":
black cookies, crushed
chocolate pudding mix
gummy worms
green coconut shavings
cleaned, recycled individual yogurt containers, small, clean clay pots or small glass jars
Sprinkle a layer of the crushed cookies on the bottom, then pour in the pudding. Top with crushed cookies to make topsoil, then add coconut shavings to make the turf. Stick in two or three gummy worms. If the cups are clear, you can see the layers within, and point out to the kids that this looks like a compost pile.
Here's some other food ideas. Think of anything natural, organic and unprocessed:
water or fruit juice
fruit smoothies
vegetable and fruit slices on toothpicks. The toothpicks can be composted after.
Chocolate balls with blue icing. After the icing hardens, add green continents, and viola, you have mini earths!
Trail mix
Eggs in a nest treat. Check out how to make this here.
Use beeswax candles for the cake
Earth Day Party Activities
Plant a plant – give each child a small clay pot or part of a cardboard egg carton, fill with a mix of compost and dirt, and plant some carrot seeds. These they can take home.
Ready, Set, Recycle! – Remember asking for recycled materials for the party? Now you can use them. Give kids a variety of recyclable materials, such as egg cartons, cardboard, paper rolls, junk mail and clean empty jars or milk jugs. Place the kids in groups, and give them a theme (for instance, make a bridge, a tower or a tree.) Give them some tape and see what they make from it! Take pictures and vote on the most creative project for prizes. After all is done, make sure they dismantle and put everything goes in the recycling bin.
Gifts and Goodies Bags
Think of reusing and recycling when it comes to gifts, too. Instead of wrapping paper, use newspaper instead! For gifts, encourage locally-made wooden or fabric toys, something vintage, or even in lieu of gifts accept a donation to a children's charity. For goodies bags, use brown paper bags or small boxes and fill with seed packets, organic candy, and small wooden or fabric toys. Thank you cards can be crafted from junk mail or, keeping with the theme of the invitations, cut outs from paper bags.
Enjoy your party, and celebrate the only planet we live on!