Posted on
December 8, 2010

by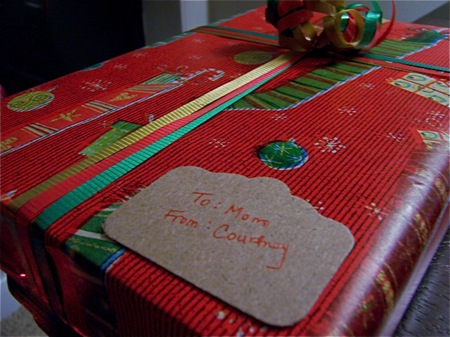 It's that time of year when we hang our stockings from the chimney with care, but if I'm being honest, I'm not very good at making my wish list and checking it twice. There's just not a lot of stuff I want that can be wrapped and put under the tree, and sometimes I think the holidays would be nicer if we skipped the whole gift thing. But I do love giving presents, and I know people in my life who like giving me things, so every year I come up with a few things I could use and try not to begrudge the task too much.
As we celebrate Hanukkah and count down the days to Christmas and Kwanzaa, several of The Greenists are going to publish their green wish lists — eco-friendly gift ideas that can make your holiday season merry, bright, and green. Here are a few things good boys and girls might like to find under the tree this year:  
1. Low-flow showerhead
Who doesn't love a long, hot shower? I know I do, but since it's bad to waste water, I try to get in and out of the shower as quickly as possible. But sometimes it's hard to convince myself not to linger in the spray, especially in the winter, when the hot water feels soooo goooood. Solution: Low-flow showerheads! The showerheads on the market these days don't limit your water pressure to a trickle; they use aeration and other technology to make it feel like you're luxuriating in a full spray, but with a fraction of the water usage. I want one with a pause button that lets me turn off the spray when I'm soaping up or shaving, then return it at the same temperature when I'm ready to rinse off. They're affordable, too — the Water Pik EcoFlow, which has the pause button, is only $20.
2. Paper punch
This is my brilliant idea for gift tags this year. Instead of buying labels, I went to Hobby Lobby and bought a paper punch that punches out 2-inch designs. Yes, it's made of plastic, but I use it to punch gift tag shapes out of an empty cereal box, thus finding a use for cardboard that was headed to the recycling bin and also ensuring I'll never buy labels again. Win/win, and it only cost $15. It's also good for scrapbooking, if you're into that. (But if you're using it for gift tags, be sure to buy one that punches out a shape big enough to write on.)
3. Ava Anderson facial moisturizer (or any of her other products)
I reviewed a few Ava Anderson products a while back, and I still love them, especially the facial moisturizer. It's light and fruity-smelling and keeps my face nice and hydrated without feeling oily, and it hasn't caused me any breakouts. It's definitely one of the best moisturizers I've tried.
4. Solar-powered cell phone charger
OK, I admit I've never tried one of these, so I can't vouch for how well they work. But I like the idea of being off the grid in this one little way. A quick search on Amazon tells me the prices of these solar chargers vary greatly, but if I were going to buy one, I'd do some research and find one in my price range that's gotten good reviews from consumers. This would be especially handy for someone who drives a lot and may not have a car charger.
What green gadgets are on your wish list?