Posted on
December 9, 2010

by

Please welcome today's guest poster, Jody.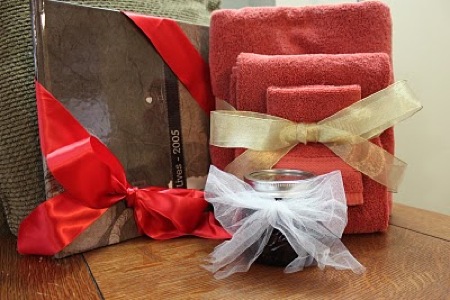 When planning a visit to my hometown several years ago, I was invited to an old friend's baby shower that happened to coincide with my trip. Since I was traveling for this event, I picked out what I hoped was a thoughtful $25 gift, packed it in my suitcase, and decided to wrap the gift when I arrived to avoid any trouble with airport security. Upon arrival, I stopped by the local all-purpose-big-box store and headed for the gift wrap isle. Since I only had the one gift to wrap, I picked out a small package of gift wrap, a small roll of ribbon, and some tape to tie everything together. The cost: $9.
Obviously, none of these items were big ticket items and money wasn't really an issue. I also recognized I was paying a premium price for everything because I wanted to buy just enough for this one present; but as I stood in the aisle staring at disposable packaging that was wrapped in disposable packaging, I couldn't help but be appalled that 26% of my gift's cost was going towards something that would hardly be noticed, then would be crumpled and torn, and in the end would most likely have to be thrown away.
I put everything back and thought, "There must be a better way."
Luckily, there is.
With the holidays fast approaching, here is a small list of alternative gift wrap options to help you through this gift-giving season:
Hold the Wrapping Paper
Why do gifts need wrapping anyway? In fact, there are many gift items where the enjoyment of the gift has little to do with the surprise of receiving it. Home-made cookies, jams, or canned fruits look festive enough without being concealed in gift wrap, and it's amazing how elegant an item can look with the simple addition of a ribbon or bow. Bonus: no need to store gift wrap!
Keep it Simple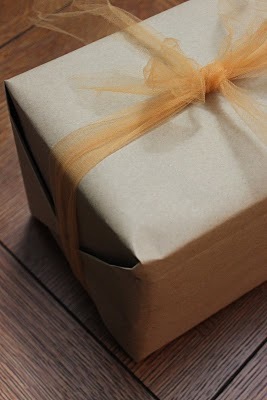 Depending on where you live and the recycling options available, many types of wrapping paper may not be recyclable. Metallic wrapping paper is a particular problem; however, so is the high-gloss finish of most other gift wrap options. If you must use gift wrap, keep it simple with a natural color butcher paper. The "natural" color of the brown butcher paper usually means less bleach is used in the process, and most butcher paper contains recycled content without having to search specifically for a recycled product. It is also highly recyclable. Bonus: no need to use gift tags–you can write right on the package!
Re-Gift It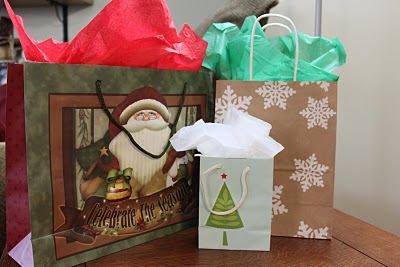 Paper gift bags seem to get more popular each year. Of course, every year I cringe as these bags get used once and are then collected with the torn and shredded wrapping paper to be thrown away (or maybe recycled); despite the fact that they still look brand new. The next time you receive a paper gift bag, keep it and gift another item in it next year. Growing up, my family re-used some gift bags among ourselves for 10+ years, and they still looked new! Hint: don't use tape on tissue paper and it's easy enough to save that from year to year as well!
Bag It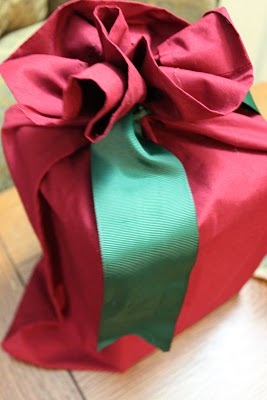 Have any skill with a sewing machine? Fabric gift bags are super easy to make, can be made in as many colors and patterns as there are fabrics, and can fasten with anything from a ribbon to a built-in drawstring. Not a crafty type? You can always use pillowcases, visit Etsy, or purchase from any number of reusable gift wrap sites such as Lyziwraps. Bonus: fabric gift bags can be used to protect ornaments as part of your holiday storage system.
Wrap It Up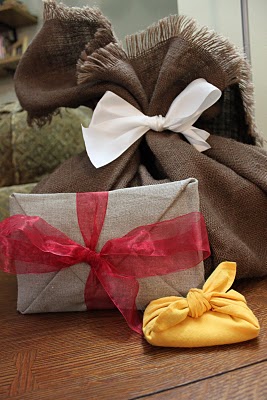 By far the most versatile wrapping system, however, is the fabric wrapping square and the ancient Japanese art of Furoshiki. Traditionally, the squares were brightly colored silk scarves, but any piece of fabric will do. And don't let the ancient art form intimidate you; the wrapping square works just as well when folded exactly like wrapping paper and held in place with a ribbon–no special skills necessary. I've found these especially helpful with oddly-shaped gifts, as well as larger gifts. Bonus: among family members, each member can have their own wrap color, eliminating the need for gift tags!
Happy gifting, everyone!
Note to the givers:
All reusable wrapping options are only as good as the receiver. If you are giving a gift to someone who does not wish to store reusable gift bags from year to year, isn't particularly interested in reducing their impact, or who assumes all gift wrap is meant to be thrown away, giving them a reusable gift bag may do more harm than good. As you consider gifts and their wrappings this year, consider that the "greenest" gift may not come from a store and that experiences and your company do not require wrapping at all.