Posted on
June 16, 2010

by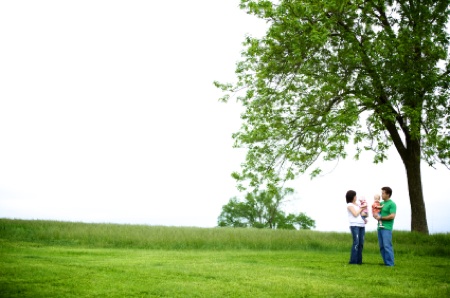 If your dad is anything like my dad, he's next to impossible to shop for. Every request for gift ideas is met with, "Eh, whatever. I don't really need anything." But Father's Day is this Sunday, and I can't just let the day come and go without giving my dad some token of how much I appreciate him, right? Now, I know what you're thinking — our gift-giving culture often results in the exchange of useless junk that we never end up using, and that's not very green. However, for the earth-friendly son or daughter who just wants to show Dad some love this Father's Day, here are some gift ideas that are good for Dad and for the planet:
1. Cook him a nice dinner. We're right in the middle of prime grilling season, so get Dad a cold one, let him prop his feet up, and make yourself useful. Let him pick the menu, and put yourself in charge of getting all the ingredients and cooking it up. Bonus points if you use local, organic ingredients.
2. Get him a reusable water bottle. Dads have to remain hydrated too, and disposable plastic bottles are good for no one. Get your dad a BPA-free water bottle that he can refill over and over again. (Don't worry, there are some manly designs out there. If you can't find one that's not too girly, basic silver always works.)
3. Take him to a game. Is your dad a sports lover? Organize a family outing to a baseball game or whatever he's into. If his favorite sport is not in season, you could pre-order some tickets and give him an IOU for the game. It'll give him something to look forward to.
4. Plan a fun outing. A round of golf, a day at the water park, a trip to a museum … just make sure it's something your dad wants to do.
5. Pitch in around the house. You should do this even if it's not Father's Day, of course. But ask your dad if there's anything you can fix or clean or do for him, and let him relax while you take care of it.
6. Get him a book. Books may not be the greenest purchases, but they're usually put to good use. Check second-hand bookstores first for a gently used copy of whatever you're looking for. (I recently introduced my dad to the Awkward Family Photos blog, which he found hilarious, so the AFP book may be a hit.)
7. Buy him a solar charger. Is your dad a gadget guy? There are some inexpensive solar chargers out there, which allow him to charge his batteries off the grid. They're also portable, so he'll have a way to charge his phone even if he's on the go.
8. Look for something vintage. Admittedly, vintage stuff usually costs more than new stuff, but that's because it's cooler. Vintage watches are especially nice if you have a nice chunk of change to spend. If not, go poke around some antique stores — chances are you'll find something your dad will love.
9. Make a donation to your dad's favorite charity. Nothing beats the feeling you get from helping other people, and chances are your dad will feel the same way.
10. Tell your dad you love him. That's the best gift of all (and it's non-negotiable.) Now go forth and be a good kid.