Posted on
May 4, 2009

by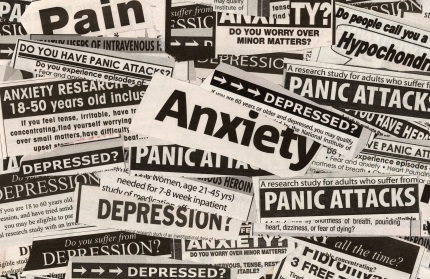 Let's be honest: Being environmentally friendly can be exhausting sometimes. Keeping abreast of the serious and frankly terrifying things that are being done to our planet is enough to make anyone a little on edge. While it's everyone's responsibility to understand what is going on around us and do the right thing in response, doing so can sometimes remind us of the phrase "ignorance is bliss."
Being concerned about the environment is one thing. Many people recycle and use CFL bulbs and drive fuel-efficient cars and avoid plastic whenever possible, and that's great. But there are some who literally worry themselves sick over the environment, and those people have what is known as eco-anxiety. These people obsess over the environmental impact of everything they do, to the extent that they lay awake at night worrying about that jar they accidentally threw away instead of recycling, or what sorts of environmental catastrophes their unborn grandchildren will be dealing with.
Eco-anxiety comes with the same kinds of symptoms as regular anxiety — panic attacks, loss of appetite, weakness, nausea, sleeplessness, etc. The difference is that for the eco-anxious, these symptoms are triggered by various environmental doomsday scenarios. 
So what can you do if you believe you have eco-anxiety? For starters, you can see an eco-therapist. There are mental health professionals who specialize in helping people who stress out about our planet to an unhealthy degree. In addition to the treatments for regular anxiety, an eco-therapist may tell a patient to become more in tune with nature by carrying around something natural with them at all times, like a rock or a twig. Doing so is meant to remind the patient that we humans are part of nature, not a force at odds with it. Remembering that each of us is a small piece of a big picture helps the patient keep his or her sense of environmental responsibility in perspective.
As you can imagine, there are some people who believe eco-anxiety is ridiculous. It would be easy to write it off as the "disease du jour," nothing more than an excuse people could use to seek attention. While that's certainly possible, I'm inclined to take it a bit more seriously — after all, anxiety is a common and serious affliction, and there's plenty out there to overwhelm any of us.
There are also those who say eco-anxiety is just a product of the media blowing things out of proportion in regards to global warming and other environmental issues. I'm not sure I agree with that either. Saying the media is sensationalizing an issue implies that the issue is of little actual importance, and obviously I think our planet is a serious problem. Plus, I doubt the fear of flying existed before airplanes were invented, but no one doubts aerophobia as a legitimate affliction. Why should eco-anxiety be any different?
What do you think? Do you believe there is any merit to eco-anxiety? Would any of you classify yourselves as eco-anxious? If so, what do you do about it?