Posted on
April 10, 2008

by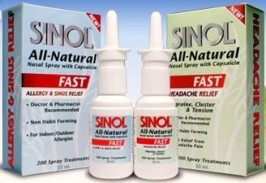 I get migraines and I'm stubborn about them.  I hate taking migraine medication, because it knocks me out and leaves me feeling funky for days.  Plus, there are all those fun possible side effects.
For the past three days, I've had a nasty headache that I've been barely controlling with Tylenol.  I know, that's not the most responsible way to handle things, but it allowed me to stay functional, despite the discomfort.  I managed to get rid of the full-blown migraine horror, but not the nagging, aching headache that got worse whenever I moved my head.
By yesterday, I was at the end of my rope and really ticked at myself.  If I'd just taken the darn migraine meds when the headache first started, I'd have been feeling better, even with the day or so of funk that follows.
While shopping at our local natural foods store, I decided to check out the herbal aisle to see if they had anything for migraines.   They had a few options, but I decided on Sinol All-Natural Nasal Spray with Capsaicin, because it said "Fast Headache Relief" on the box.  Fast is good and I was desperate.
Capsaicin is the component that makes chili peppers hot and spicy.  The other ingredients are Purified Water, Eucalyptus Oil, Aloe Barbadensis Extract, Rosemary Extract, Benzalkonium Chloride, Sea Salt, and Vitamin C.  Sinol is non-addictive and has no harsh side effects.
The box warns:  "When used for the first time, one may experience a light burning sensation which lasts for 2-5 seconds.  This reaction actually relieves headache pain and will subside quickly, similar to eating spicy foods."
I would like to clarify that the "light burning sensation" is probably akin to putting out a fist full of lit matches with your nostril and for the 2-5 seconds that the sensation lasts, you will want to rip your nose off and throw it far far away from the rest of your body.  That being said, this stuff works like magic.  After three days of being stuck in my awful headache haze, I felt better in seconds.  As soon as the fire was out in my nose (and it does go away quickly), my headache was completely gone, although the box says that it can take up to 20 minutes to work.
Sinol provides relief for migraine, cluster, sinus, premenstrual, menstrual, and tension headaches, and also for indoor and outdoor allergies.
It was a little pricey — I paid fifteen bucks and change, and the Sinol website is selling it for $19.95 plus shipping — but after three days of pain, it would have seemed cheap at twice the price.  And I am going to make sure I have a bottle with me at all times now, so I can stop these darn headaches right when they start.