Posted on
May 7, 2009

by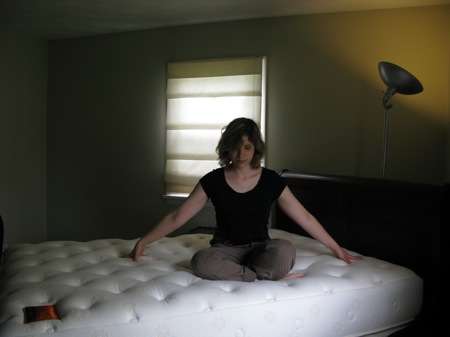 So, we found a mattress!  After trying countless mattresses at countless stores, spending hours and hours researching beds online, we have a winner.
We went with a PranaSleep latex mattress from City Mattress.  Here's why:
For starters, and probably most importantly, I can't get past the idea of buying a mattress without testing it.  Many of the online stores we looked at had exchange policies to protect you if you buy the wrong mattress, but, there are still fees involved – often in the $75-150 range.  Sometimes there was no fee, but the buyer instead had to pay return shipping costs (and then you have to figure in the energy use involved in shipping and re-shipping a new mattress).  One poor commenter on a site complained that it cost almost $700 when he tried to ship his mattress back!
I don't disagree with the exchange fees.  I see why they are necessary.  Mattresses can't be resold.  When you test a mattress and return it, it's either recycled, or refurbished and donated to a good cause.  City Mattress has an exchange fee as well, but we tested this mattress.  We spent TWO HOURS testing mattresses, and I'm pretty sure we've found the best one for us.  If for some reason, we have to exchange it, paying the fee won't bother me as much.  It won't feel like we were gambling.  But honestly, our mattress rocks, and I look forward to sleeping on it for many, many years.
Plus, while City Mattress is a (small) chain, they have three stores in our area and are part of our local economy, and I think it's important to support that.  Our salesman was fantastic!  He was so patient.  Mattress shopping is kind of weird, but we felt completely comfortable chatting with him while tossing and turning on mattresses in the store.  He took the time to explain the differences between the mattresses, and he didn't push us at all.  He was a great asset in our decision making process, and I'm happy that he got a commission from our purchase.  If you live in the Rochester area and are looking for a mattress, shoot me an e-mail at alliesanswers at gmail dot com.  I'd be happy to pass along his contact information.
While I'm sure there may be other mattresses out there with a smaller carbon footprint, latex mattresses have a long lifespan.  I found plenty of testimonials from people who have happily had latex mattresses for 15 to 20 years.  Comments on my other mattress post supported this.  And, I exchanged e-mails with Katie at PranaSleep.  She confirmed that PranaSleep mattresses are designed to last twice as long as coil mattresses. If we can keep our mattress twice as long, we're cutting down on our total use of energy and materials when it comes to mattress ownership in our lifespan.
Other selling points:
Latex mattresses are naturally hypoallergenic, mold, mildew, and dust-mite resistant.  As someone with asthma, allergies, two dogs, and a cat, this is really important to me.
PranaSleep doesn't use Polybrominated Diphenal Ethers ( PBDE's) or boric acid as fire retardants.  In fact, our salesman told us that City Mattress no longer sells mattresses using chemical fire retardants, and stopped carrying a major mattress line because of this.  This doesn't mean the mattress isn't up to code, it just means that fire protection comes from the fabric instead of chemicals.
It doesn't smell like new mattress.  When we got our last mattress, I remember waking up smelling like chemicals and foam for weeks. This mattress smells like absolutely nothing.
Latex isn't heat senstive.  Memory foam mattresses or mattresses with memory foam components are.  Memory foam gets hard in cold temperatures.  We keep our house pretty cool in the winter to save energy.  I'd hate to crawl into a hard bed at night.
Latex springs back intstantly.  It's a matter of personal preference, but we slept in on a memory foam mattress once while house sitting, and I hated the fact that when I wanted to turn over, I kept falling into my previous body impression.
Natural latex can be sustainably produced.
It's absurdly comfortable, and reduces pressure point issues.
If you have a latex allergy, you may want to talk to your doctor before purchasing a latex mattress.  From my understanding, since latex doesn't off-gas, and the mattress is covered (and you'll be using sheets too) it shouldn't be a problem.  But, of course, you should double check.
As a side note, if you're not sold on latex and are in the market for a mattress, be wary of those "eco-friendly" green stickers on mattresses.  Ask questions and read labels before you pay more for something that may not be as green or healthy as it promises to be.  I tested out many green label mattresses in several department stores, but when I started asking questions, I learned that the only eco-friendly thing about them was the organic cotton mattress cover.  And since cotton isn't naturally flame retardant, it's highly likely that these mattresses use chemical flame retardants.
And yes, if you're wondering, I do find myself hysterical.  Sorry I didn't have time to grow out some pit hair for you like this guy.