Posted on
February 11, 2010

by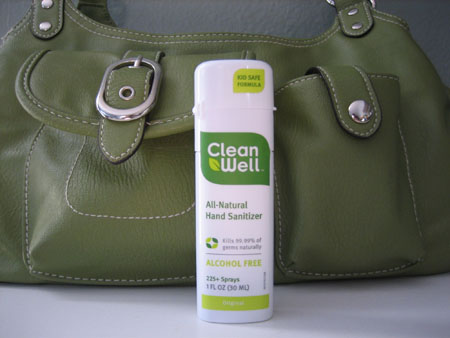 All that hysteria over H1N1 seems to have died down the past few months, but we're still in the midst of cold and flu season. I know this because I managed to catch myself one. A cold, that is. Or possibly bronchitis. Or maybe the pneumonic plague. I'm kidding. I've consulted Dr. Google, and I'm pretty sure it's not the plague, though I may have to wait a few days to be certain. Meanwhile, I'm sipping fluids and bonding with my couch and wishing I had picked up the little bottle of CleanWell hand sanitizer I recently bought a week or so earlier than I did.
Hand sanitizers have gotten a bum rap the past couple years, for partly good reasons. Most of them contain triclosan, which can lead to bacterial resistance and a host of other dangers. They also typically rely on alcohol, which not only dries out and potentially irritates your skin, but isn't particularly safe if you've got small, curious children around. Some people question whether hand sanitizers offer any value at all, pointing out that properly washing your hands (i.e., lathering up with regular soap and water and then rubbing your hands together for about 20 seconds—the time it takes to sing the "Happy Birthday" song to yourself twice) is just as (or more) effective.
I wasn't looking for a hand sanitizer to replace well-advised hand washing, of course, but I wanted something to leave in my car or my purse to offer some antiseptic protection when out and about, shopping and errand-running and such. My car doesn't even have power locks, people; it most certainly did not come equipped with a sink. So I went on a bit of a hunt for a natural, alcohol-free version of the ubiquitous goop we all know so well.
The first product I tried I cannot tell you about, because doing so would violate The Greenists' review policy, which basically states, "If you don't have something nice to say, don't say anything at all." It was a convenient purse-sized spray bottle available for a very reasonable price at a local grocery store, but unfortunately, I was not a fan.
Luckily, my physician Dr. Google is also a great shopping buddy, so I asked him to help me find another brand. Which is how I landed on CleanWell. Their hand sanitizer is all-natural and non-toxic, relying on thyme and other plant oils to kill germs, rather than alcohol or harsh chemicals. Those plant oils give it a rather strong herby fragrance, which you may or may not enjoy. My sister was next to me when I spritzed some on my hands last weekend, and she said, "Ooh, that's… what is that?" I'm not sure if that was a thumbs-up or a thumbs-down on the smell. It is a little Lemon Pledge-y, but the scent doesn't linger very long. It also absorbs into my skin quickly, and makes my hands feel almost as silky as if I'd just applied lotion. (Two birds! One stone! Hurrah!)
CleanWell certainly isn't the only natural, triclosan-free (nor alcohol-free) hand sanitizer on the market. If you go on a similar hunt yourself, you'll find several options. CleanWell was the only one I was able to find locally, though (which was important given my refusal to pay more in shipping charges than I do for the actual item). You may also want to try making your own version at home. A quick search turns up several both alcohol-free and alcohol-based recipes. (Note: If you're using alcohol as the germ-fighting ingredient, be aware that at least 60% alcohol content is necessary for it to be effective.) That's an even better option if you want to avoid repeatedly bringing more little plastic bottles into your life. (The fact that the CleanWell bottle is not refillable and is not even marked as recyclable is my only gripe with the company thus far.)
Now if you'll excuse me, I think I see a can of chicken soup and perhaps a nap with my name on it. Here's hoping all of you protect yourselves against the winter germs more successfully than I!