Posted on
October 18, 2010

by

I knew when the Modern Fiance and I started planning our wedding that I didn't want to spend a lot of time, money or brain power on decor. We're having our reception in a historic, art-deco style train station, so the venue is beautiful on its own merits. Plus it just seemed wasteful to spend money on things that people wouldn't eat or dance to.

I was inspired this summer when I saw a post on my favorite home design blog, Apartment Therapy, on clustering jars on tables with small candles inside for a simple but striking way to add some awesomeness to any gathering. With a year before our wedding date and some help from our parents and wedding party, I knew we could gather a bunch of spaghetti sauce, salsa and jam jars just from the stuff we eat on a regular basis.

The beauty of the jars is we can continue to repurpose them after the wedding is over. Even though we won't have many wedding flowers, I figured we could put what we do have in some of the jars and give them as gifts to our friends or family members who come or use them as vases to gift flowers at a later date. Empty jars make great vases. Whatever we don't use, we can still recycle.

In the mean time, I've been trying to put those jars to use so they don't just collect dust over the next eight months. Again, Apartment Therapy came to my rescue with a link to Chez Beeper Bebe, who has a great tutorial on how to turn a mason jar into a lantern. All you need is some jars, some wire, wire cutters, needlenosed pliers and the sand and candles to put in the jars.

The Modern Fiance and I threw a party recently, so I went to work on the jars and managed to turn six of them into lanterns. I am seriously the least crafty person in the world, and even I could make this work. I'll probably even keep some on hand after the wedding for some simple party decor. Here's how mine turned out (I didn't have any sand on hand, but do recommend it):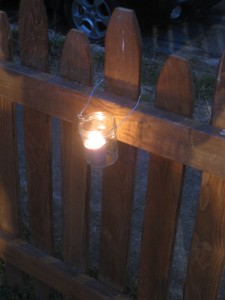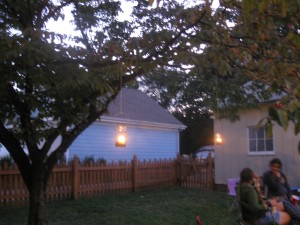 Sorry for the bluriness, I don't have a very good camera
What would YOU do with a bunch of empty jars??