Posted on
November 15, 2010

by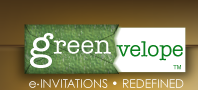 When I jumped into wedding planning, I had no idea how much stationary was involved in the whole shebang, let alone the cost of it all. Stationers and paper companies are making a mint off brides and grooms! When you start consulting the wedding guides, they suggest you have the standard wedding invitations (of course), complete with response cards and perhaps reception cards if you have two different venues; then there's the 'save the date' notice and the thank you cards that match your invitations and the fancy envelopes for them all. Phew.
I admit, I'd not really considered going paperless for it all until I found out about a cool new wedding e-invitation website, Greenvelope. Before seeing Greenvelope, my impressions of e-invitations consisted of cheesy designs and animated gifs and such — great for maybe the bachelorette party, but probably not kosher for the wedding itself. Greenvelope has such a wide array of designs that would suit anyone's taste. I'm not the girliest of gals so I really like the more modern designs. Recipients will be treated to an (un-cheesy) animated envelope and invitation that looks as if they're opening a real envelope.
But there's some other things that make Greenvelope even better. You can keep track of everything on the website: guests' email addresses, snail mail addresses, RSVPs and other guest information. You can e-mail your entire guest list at any time, like say if you need to mention a change in the wedding day schedule or something. If you haven't planned a wedding before, then I cannot stress how difficult it can be to take care of all this stuff on your own.
The best perk of all from Greenvelope? They donate a percentage of profits to environmentally conscious non-profit organizations. So in addition to saving trees, you're financially helping others to do good things for our Earth.
Prices are extremely reasonable too. If you're just interested in doing an e-Save the Date, those are totally free. Greenvelope offers two packages of e-invitation suites and services at the prices of $99.99 and $149.99, depending on the level of service you're getting. Compared to paper invitations which can cost $300 and up, that's a great deal!
If you're interested in Greenvelope's service, they're offering 25% off one of their packages with the coupon code "thegreenists". Check them out!