Posted on
February 12, 2009

by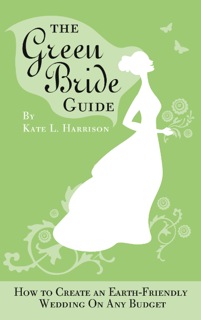 Kate L. Harrison from The Green Bride Guide was so kind to answer a few questions for us.  Read her answers, and leave a comment below for another chance to enter the The Green Bride Guide Giveaway!
1. I love how you stress that not only is a green wedding easier on the environment, but it's also a great opportunity to direct money to green businesses.  If you had to choose the three most important green changes to make in planning a wedding, what would they be?
The general rule of thumb is that more money something costs, the more impact on
green
business you have by directing those dollars to eco-friendly companies. The three largest wedding expenses are food (~$10,000), jewelry (~$6,000), and attire (~$2,300), so any changes you can make to decrease your impact in these areas goes a long way.  For example, if every couple spent 10% of their catering budget on organic ingredients, it would add $2.5 billion to the organic movement a year.  There are often simple substitutions available (like vintage diamonds for rings) that not only benefit
green
businesses and the environment, but can save you money too.
2. It seems like with your background and your husband's background, a

green

wedding was the obvious choice,  but you mentioned that family members were somewhat surprised that you were planning a

green

wedding.  Did you get any opposition for this choice, or was the reaction more of a pleasant surprise?
I wouldn't call it opposition, but I think some of our guests associate
green
with scratchy toilet paper and were worried. In fact, there are so many
green
options available today that you don't have to sacrifice comfort or style to make eco-friendly choices. The era of eco-couture has arrived!  Each section of the book is subdivided by price, so couples can quickly and easily decide when to save and when to splurge and can view hundreds of
green
options for every style and budget.
3. Do you have some advice for brides and grooms who get opposition from their family – perhaps, if family tradition contradicts

green

plans?
I can't think of a situation where family tradition would get in the way of eco-choices.  You can now find beeswax unity candles, handmade American wood brooms, bamboo chuppahs and more.  I have a whole section of my website
www.thegreenbrideguide.com
dedicated to eco-friendly ritual objects and even if you can't find a
green
version of what you are looking for, you can always donate it or resell it (recycle it) after the big day.  That said, I usually recommend couples talk to their friends and family about what they are doing because it will make it easier and because it is an opportunity educate others. To the skeptics, they
can explain that they want to make their wedding day sustainable because marriage is about confirming their commitment to a long-term future together.  Thinking about the world their children will inherit as part of the process goes to the very heart of what marriage is about.
4. In working on the book, was there any ideas you came up with after the wedding that you wish you'd incorporated into the big day?
This is a tough question because, like every couple, I loved my wedding just as it was!  However, there are some really cool products that have come out in the last year that I would have liked to incorporate.  For example, you can now get solar rice paper lanterns to hand from the trees.  As part of the party was outside, I think these would have been a whimsical addition.
5. What

green

practices do you maintain at home?
We are a pretty lo-key couple and everything we do is pretty basic (and easy). We recycle, we compost, and we use biodegradable cleaning products, detergents, and bags. We do what we can to conserve energy.  Most of our bulbs are compact fluorescents, we use rechargeable batteries, and we both have alternative vehicles – I drive a Prius and my husband has a biodiesel truck.  We do a lot of cooking at home and buy local organic ingredients as much as possible. Simple things that add up.
6.

What do you think is the most important thing the average person can do to lessen their negative impact on the environment?
My sister once said "it is called going
green
for a reason – it is a process."  I don't think there is one thing per se, unless that one thing is trying to be more aware in general.  Every day we make choices – what to wear, where to go, what to buy – and each of these choices has an impact on the planet.  If you just try to keep that in mind, then you start looking for substitutions that are better, you try to coordinate driving so you can carpool or make fewer trips, you turn down the thermostat one degree, you do easy things that when taken together add up. Today you do one, tomorrow you add in another and soon you will have significantly reduced your impact – and will have saved a lot of money in the process!  I have discovered that by going
green
you can save up to 40% off the cost of your wedding.  I don't know what the percent is for life – but I am sure it is substantial.   Go green and save money – talk about a win/win!
Thanks, Kate!