Posted on
December 17, 2008

by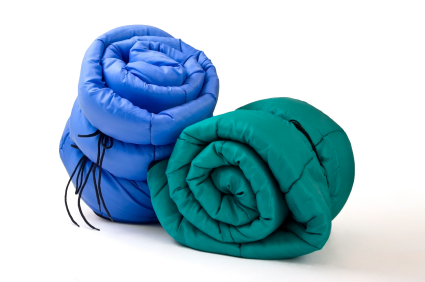 Erikka asked for ideas on what to do with an old sleeping bag.  Here are a few.
If the sleeping bag is in basically good condition, but you've replaced it with a newer model, consider donating it to your local homeless shelter or Volunteers of America.  World.org recommends giving it to your local Boy/Girl Scouts branch.  Or, if you live in an area that gets a lot of snow, you may want to keep it in the trunk of your car in the winter, in case you get stranded in a white-out or other major weather situation.
If it needs a new zipper, repair it and put it back to use.
If it's simply not warm enough for your current needs, consider getting or making a sleeping bag liner instead of getting a whole new bag.  This one from REI adds up to 15 degrees of warmth to your current bag.
If sections of it are unusable, try cutting the bag down to make a smaller bag for a child, a pet bed, or sew and stuff to make a floor pillow for extra seating.  You can also donate it to your local animal hospital or animal shelter, since they are always looking for blankets, towels, etc. to use as bedding.
You can take the fiberfill or down out and use it to stuff pillows, while using the fabric scraps left over for quilting, cleaning or making a rag rug.
Or put it up on Freecycle and see if anyone else wants to use it.