Posted on
June 28, 2012

by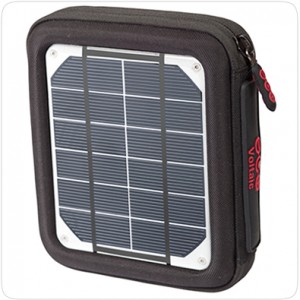 When I was in Chicago for the #noNATO protests in May, I learned one very, very important lesson: we must practice what we preach.
I participated in, and listened to, a number of conversations about moving from dependence on foreign oil, on how to prevent oil drilling in the US, strategies to close nuclear power plants, and to propel the US to move to sustainable methods of energy creation, collection, and distribution. These conversations were had while fighting over outlets to charge our phones and laptops.
While in Chicago I marched on a picket line to support union workers striking for better healthcare. A young man with a backpack — which had solar chargers on it — filmed the picket line. The solar charger kept his camera well charged so his camera was available to him whenever he needed it. I asked him about the solar charger. I was concerned the product wasn't worth the cost. This young man spent 30 minutes extolling the virtues of Votaic Systems Chargers. He didn't know the charger he was using to film the picket line was the *exact* one I was looking at before I left for the Windy City.
When I came home I looked over Voltaic's products. The Converter Solar Backpack I wanted turned out to be cost prohibitive so I chose the Amp Solar Charger. I was asked what I would use my charger for on the order form. I responded with "my phone and my camera." Once the solar charger got here, I realized I can't use it to charge my camera because of the way the battery on the camera is designed. I was a little bummed but got over it.
Overall I love my solar charger. I feel good about being off the grid, even if it's for something as small as my phone. However, my only gripe with the charger is the length of time it takes to charge the battery; it can take over 24 hours to get it fully charged. This is more because there is no place around my yard which gets full sun so I'm constantly having to move it around the yard to keep it in direct light. Keeping it in the house is pointless since almost no spot in my home gets direct sunlight. Of course it doesn't charge at all on cloudy days — like today — so I find myself having to use an outlet to charge my phone more than I anticipated. I'm not sure if putting it outside during the winter is an option — but then again my home gets more light in the winter because the trees lack leaves — so I'll just have to wait until winter to see if it charges any faster.
Overall, Voltaic makes a great product and I highly recommend the Amp Solar Charger. Just make sure you have a lot of direct sunlight to charge it in or you have the time to follow the sun around your yard and home.