Posted on
August 13, 2009

by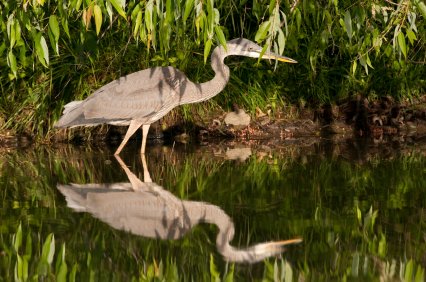 In his book The Abstract Wild, Jack Turner writes, "Each of us carries around a list of particular offenses against our place: a clear-cut, an overgrazed meadow, a road, a dam. Some we grudgingly accept as necessary, others we judge mistakes." Although he doesn't explain it, when I read it I immediately knew what he meant by "our place," or at least I knew what it meant to me. We all have places that we hold sacred and that have been defiled, be they the well publicized poster-tragedies of Glen Canyon and Hetch Hetchy, or a spot known only to you, maybe just a grove of shady trees or a single pool in a mountain stream.
When I read Turner's line, I immediately thought of the forested hillside that formerly abutted my old neighborhood in the Atlanta suburbs. I'm not sure why, exactly, since I've experienced many far more glamorously threatened locales like the coal-rich mountains of Appalachia, the dammed desert canyons of Utah, and the cattle-ravaged ranges throughout the American west. It may be because it was the first time, or the only time, that I've really gotten to see a place before it disappeared forever. Or maybe, unlike the storied and faraway canyons of Utah, it really felt like my place. The strange thing is, I can only recall going there once.
When my family moved to Georgia when I was ten, the area we settled in was the frontier – the suburban frontier, that is. It was the edge of suburbia, the line (in Atlanta's case an ever-expanding circle) that demarcated nouveau-Southern from the real country. Of course by now that area has been completely swallowed and the current frontier (where my parents have since relocated, staying at the vanguard) is now a whole county or two further out, but at the time all the nearby roads were still only (gasp!) two lanes wide and the land was a patchwork of tennis court/swimming pool subdivisions separated by acres of woods and the occasional holdout horse farm. A wilderness it was not, but all of the life had yet to be bulldozed out of it.
Shoe-horned in between our subdivision and the borders of two others was the unprostituted (at least of late) hillside of trees, just waiting to be turned into 117 palaces of Sheetrock and stucco, with an asking price of four-hundred-thousand per, give or take. It wasn't until the sign went up along the road announcing the fate of this heretofore neglected plot that I even bothered to set foot in its condemned shadows, following the survey stakes into the trees.
I couldn't believe I'd never been there before. There were trails. And old, overgrown and broken-down stacked-stone walls. And acres and acres of loblolly pines and dogwoods muting the sounds of the road. And a pond! A pond just a short walk from our driveway and none of the other kids even knew about it! I remember the pond mostly for what was standing in it, all alone except for me: a great blue heron, the first one I'd ever seen. I remember thinking that surely they couldn't or shouldn't bulldoze this place if such an enormous, exotic bird lived there. It may have been my first certifiable thought as an environmentalist. It was definitely the first time I felt sadness on behalf of a piece of earth.
Some time later, after the sheetrock had all been hung, the last roll of Bermuda sod had been laid and the nets were stretched across the compulsory tennis courts, I got to take a daily ride on that hillside when the brand-new subdivision was added to my school bus route. The road that looped over it followed the path I had walked and they had left about one out of every hundred or so trees. When the bus reached the apex of the now-cleared hill, you could actually see, for an instant before going down again, the skyscrapers of the city 40 miles distant. And I can't be sure it was in the exact same spot as the pond, but there was a drainage impoundment right next to the tennis courts. I never once saw a heron wading its muddy waters.
Looking back now, I can't say whether, in Turner's words, I see the destruction of those woods as "necessary" or instead a "mistake." I suppose it was inevitable, given the location, but the experience instilled in me the conviction that there are some places that should be, must be left as they are. I really don't know if that place, my place, was one of them. After all, I'm fairly certain that before it was a patch of woods in the middle of metro Atlanta, it was a hardscrabble farm eroding down through the red Georgia clay. And before that it was woods. Probably, almost certainly, it will be woods once again. Sheetrock doesn't last forever, after all.
What places have you loved and lost?