Posted on
September 15, 2011

by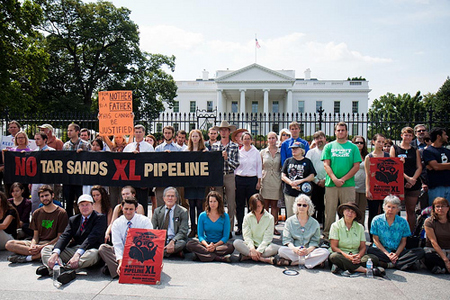 As I hope many of you already know, protests of the Keystone XL Pipeline took place a couple weeks ago in front of the white house.  These protests went on for 2 weeks and over 1,200 people were arrested; including Bill McKibben and James Hansen.  It is quite possibly the largest act of civil disobedience our country has seen in decades.
I wish I had been there.
Not only do I live in the DC area (I'm about an hour away), but I've also held a life-long goal of being arrested for a cause I believe in- and this definitely qualified.  Yet for two weeks, I heard the news, I thought it would be a good idea to join in, yet I did nothing.   Why?  Easy- life got in the way.
Everything from missing work would be too complicated, to weekends filling up with schedules and errands, it was always easier to do nothing than it was to commit to something.   Besides, my house already uses 100% wind power, we drive very little, eat (mostly) vegetarian, grow some of our own food, reduce, reuse, recycle, etc, etc.  And what good would come of being arrested, anyway?
As if in response to my excuses, yet another article has come out putting these "green living" tactics at odds with the overall "green movement."  From Gernot Wagner, an economist at the Environmental Defense Fund, and his article in the New York Times:
YOU reduce, reuse and recycle. You turn down plastic and paper. You avoid out-of-season grapes. You do all the right things.

Good.

Just know that it won't save the tuna, protect the rain forest or stop global warming. The changes necessary are so large and profound that they are beyond the reach of individual action.
and he goes on to say:
So why bother recycling or riding your bike to the store? Because we all want to do something, anything. Call it "action bias." But, sadly, individual action does not work. It distracts us from the need for collective action, and it doesn't add up to enough.
Despite being an avid believer that individual actions form the base for larger, collective action, Brian Merchant at Treehugger summarized it much more succinctly:
If I already buy organic carrots and drive a Prius, why should I bother going to the anti-tar sands protest too? I mean, I totally have a dinner party already planned for that day.
and, he argues, since these little individual actions (like buying organic carrots or driving a Prius) make us feel good,
And, in making us feel good, [they reduce] our personal imperative to enact meaningful change.
So, greenists, what is your take on the issue?  Do the little, individual actions add up to inspiring the larger, collective actions?  Or do they leave you so worn out by sweating the small stuff that you're too exhausted to take on the big challenges when they come around?
Although I have no plans to give up my local milk delivery, CSA, wind power, recycling, or programmable thermostat; I will be doubling my effort to contact my senators and congressmen to enact meaningful change.  And the next time a protest like the Keystone Pipeline comes to DC, I'm definitely going to plant myself on that line- who knows, that chance for collective action may come sooner than you think, Moving Planet's Day of Action is less than two weeks away.