Posted on
March 27, 2008

by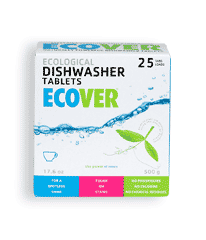 Last week, The Organic Consumers Association released a report on carcinogenic 1, 4-Dioxane.  It's been found in several major brands of personal care and household cleaning products labeled organic or natural.  The brands listed included one of my favorites — Ecover.
I was so disappointed!  Not only do I love Ecover products, but I've been recommending them on this site constantly.   Ecover was recognized by the United Nations for their achievements in protecting and improving the environment, so their products always seemed like a great green choice.
I contacted Ecover, and they were kind enough to send me their official statement on Dioxane:
"The Organic Consumers Association recently revealed in a study that traces of dioxane where found in various consumer goods. Dioxane is classified as "Category 3 – cancerogenous effects cannot be excluded", i.e. effects which could occur after a lengthy exposure to high concentrations.

Ecover Dishwashing liquid contains 2,4 parts of it per 1.000.000 parts of product. That is merely above the detection limit of 1 part per 1.000.000 parts of product. Dioxane traces in detergents are minute leftovers of the production process of one single component, a plant based surfactant. To date, this ingredient does not have an equally efficient or more ecological substitute, although Ecover was able to gradually and substantially reduce its relevance over the years.

Substantial quantities of dioxane are found in the production of synthetic fibers, such as polyester, a fabric that is worn daily by roughly 85 % of the planet's population.  Mainly produced by two US companies, the ingredient is also used in high dosages as a solvent in mass production, including the paper and cotton industry as well as the polymer industry for the production of PET bottles. It is therefore astonishing that the above-mentioned investigation turned a blind eye on such superabundant and well-spread sources and preferred to single out easy-to-research, mere minute traces of dioxine in detergents.
Several years ago, the European detergent industry put a limit on dioxane traces at 100 parts per million of surfactant. Ecover's own criterion is set at half, namely 50 parts per million. This leads to values as low as the 2,4 parts detected in the Ecover product. The threshold for reporting the presence of dioxane in tap water in The Netherlands, a country with a stringent environmental legislation, is 3 parts per million parts of water. This means that, in the unlikely event, you drank an entire bottle of pure Ecover Dishwashing liquid you still wouldn't reach that threshold!"
I'm still going to use Ecover products for certain things.  I love their dishwasher detergent tablets and I don't think I'm ready to give them up.  They are still better than 99% of what's out there.  But I'm probably going to switch to Dr. Bronners, a product that was found to be free of 1,4-Dioxane, in instances where it works just as well or better.