Posted on
February 9, 2012

by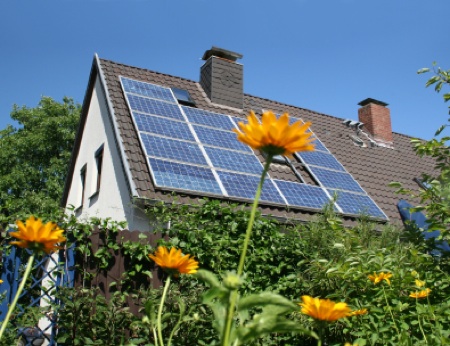 A few days ago, I noticed a discussion on another website about a real estate survey published by Yahoo! back in December. That survey asked 1,500 current and aspiring homeowners to choose the features that their dream home would include. Lo and behold, "green or energy efficient" was the top vote-getting quality after being chosen by 58 percent of the poll's respondents. My knee-jerk reaction was, "Great! Our fellow Americans are finally getting it! Taking a green-minded approach with our homes IS important."
But then I read a bit farther into the poll's results and noticed the disconnect.
Tied for second  was "building a custom home," chosen by 38 percent of poll respondents. Clocking in at last place with a measly 5 percent was "tiny house," a feature chosen by fewer people than "stately, traditional mansion" or even "castle or castle-style."
Green/energy efficient 50%
Building a custom home 38%
Water views 38%
Suburban home 31%
Beachfront or near the beach 27%
Cottage in the woods 20%
Gated community 17%
Urban neighborhood 13%
Stately, traditional mansion 11%
Ultramodern home 10%
Castle or castle-style 9%
Condo in vacation area 9%
Tiny house 5%
*Source: Yahoo! Real Estate Home Horizons 2012 study of 1,500 US homebuyers, home sellers, homeowners and renters (multiple responses allowed)
This isn't a post to shame anyone who doesn't want to live in a tiny house, because for one thing, tiny can have as many definitions as green can. Not to mention, this poll asked about features that a dream home would include, and if given the chance to have whatever you want in your home, who wouldn't choose a house that had some green-friendly features?
But because respondents could choose more than one answer on the survey, I have to wonder how many people chose "green or energy efficient" and "traditional mansion" or "build custom home" the same time? These things aren't necessarily mutually exclusive, but often times they are. New, custom homes are built in places where there is plenty of supply of existing homes that could be gently updated. Mansions consume gigantic footprints that a few green-friendly features will never be able to cancel out.
The fact that "green" is a feature that a majority of Americans seem to want in their homes is a good step. Those of us who are dedicated greenists have gone a long way in educating our neighbors and friends about the importance of being green. Now it's time to push the lessons a bit farther. It's time that our society starts recognizing what choices and sacrifices go into truly being green, so that the practice doesn't just get lip service — it's something all of us truly understand.
Here's Yahoo's own story on the survey results.
What do you think? What kind of homes are featured in your dreams?
(H/T to Apartment Therapy)