Posted on
November 4, 2010

by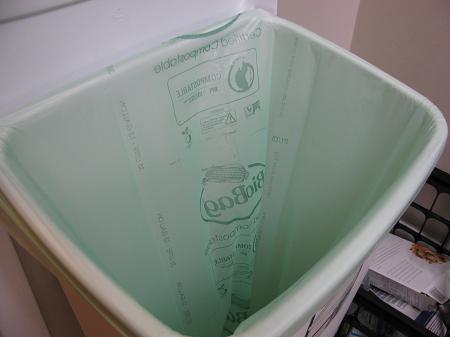 I know, I know- you're tired of talking about plastic bags. You've already switched to reusable bags when you go shopping and you're still finding creative ways to use up all those petroleum-based polymer abominations that have been piling up under the kitchen sink over the past twenty years. We're SO over plastic bags, right?
Not so fast. Maybe you're not like me at all and you've managed to banish plastics in every way from your home, but one place in my household we can't seem to get over the plastic bag is in the garbage can. I've tried going bagless, schlepping the whole trash bin down to the dumpster and trying not to get all that funky garbage juice on my dungarees when I hoist it over the top. That works, except sometimes you do get garbage juice on your dungarees and the banana peels stuck to the inside of the can be pretty stubborn.
Fortunately, if you're the sort of person who really appreciates spotless dungarees and also doesn't want to add yet another plastic bag to the landfill, there's the BioBag. Certified by the Biodegradable Products Institute under some specification designated by a bunch of letters and numbers (that's how you know it's for real), BioBags are made in the USA from non-GMO starch, vegetable oil and "the world's first patented compostable polymer." I'll just have to trust them on that last one, I suppose. Point is, these bags are designed to compost rapidly. In other words, these bags are not meant to be bags for very long, an idea upheld by two of the suggestions on the box: "Do not put hot liquids inside bag" and "For best results, use BioBags within 6 months of purchase."
Hmm. Those warnings gave me a bit of pause. Would my 13-gallon bag hold up to 13 gallons of onion peels and tea bags? Or when I go to pull it out of the can, will the bottom of the bag, already winning the race toward biodegradation, simply drop all the trash back in the can (or worse, all over the floor?) Allaying my fears not at all, the transparent green bags are also incredibly thin. Hefty, these are not.
But they work. There isn't a fancy drawstring like our old bags and I don't think you'd want to put tree branches or used syringes or anything too pokey in them, but they held. I stuffed the trashcan past full as I always do, gently pulled the bag out by the corners and… nothing. It held just fine. It's just a trash bag doing what a trash bag does, holding my trash for the trip down to the dumpster, and hopefully not much longer past that.
Now I need to try to cut out some more of the plastic trash that ends up inside my BioBags. By the way: What are dungarees, and why did I decide to describe myself as wearing them?
I purchased my BioBags from reuseit.com.