Posted on
October 20, 2008

by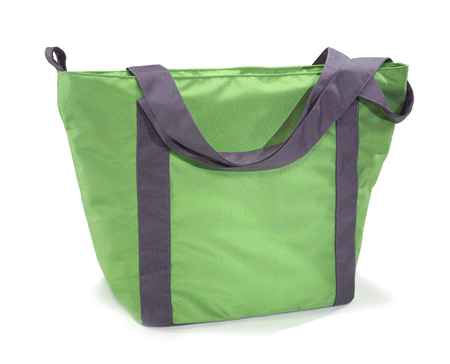 Who would have thought recycled soda bottles could look so good!
Act 2 – Green Smart sent me a Bottles to Bags tote bag about a month ago, and I love it.  It's the bag pictured above, except mine is "stone," not "olive".
The tote works great as an over-sized purse.  I use it to carry my assignments folder and extra pencils when I run writing workshops.  My Kleen Kanteen fits perfectly, and there's always room for a book.  It's also great for carrying purchases when I forget to bring my reusable grocery bag.  I think it would even work well as an overnight bag.  There are two inner zipped pockets, and sewn in pouches for pencils, cell phone, etc. to help keep things organized.
It's hard to believe the fabric was ever a soda bottle (or in this case, 10-16 oz. soda bottles).  It's durable and stain resistant, but also attractive.
I have a really exciting Act 2 Green Smart Giveaway.
Act 2 – Green Smart was kind enough to offer a bag (of the winner's choosing) for giveaway.
To enter, check out Act 2 -Green Smart's website, then sign in here with a valid e-mail address to leave a comment, telling me which bag you like the best.  Only one comment/entry on this post per person will be counted.
Later in the week, I'll be posting an interview with Tom Larsen, president and founder of Act 2 – Green Smart, and give you a chance to enter again to increase your chance of winning. The giveaway will close on Sunday, October 26th, at noon (Eastern), and I'll draw a name out of a hat to determine the winner.  The winner will be announced on Monday, October 27th. Comments that appear to be spam will not be counted.
Good Luck!
P.S.  As a matter of housekeeping.  If you recently won an Allie's Answers giveaway and haven't received your prize yet, don't worry.  Tomorrow is shipping day, and it will get to you shortly.