Posted on
March 10, 2011

by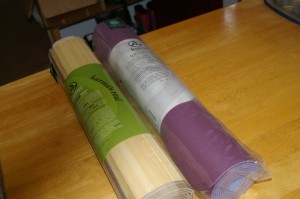 Edited to add: We here at The Greenists know how much you love giveaways so we're doing another one. The directions are below the jump. Good luck! The winner will be announced Tuesday, March 15.

Kulae Eco Yoga Mats sent me two of their mats to try yoga on. The first, ECOmat and the second ZUURA Mat™. I used them in the yoga class I've been taking on Wednesday nights.
When I first unraveled the ZUURA mat all I could smell was the scent of freshly laid carpeting. I laid it out on the rug in my living room and did a couple poses. I was a little afraid my body weight would break the bamboo but that didn't happen. Then I realized I wasn't using the ZUURA right. Instead of using it as a mat itself, it goes under a regular mat to use on anything from sand to grass to cement. I was glad I figured that out before I embarrassed myself in class.
The bamboo is toted as being a sustainable, rapid growing plant thus an easy renewable source. This is something I believe to be true so long as the bamboo is not treated with any pesticides, herbicides, or other icides. The carpet-like material on the bottom has no literature so I can't comment on the sustainability of it.
The mat is made from TPE. According to the website:
TPE, or Thermo Plastic Elastomer, is a composite material that is 100% biodegradable and recyclable, and is 100% free from PVC, Chlorides, Dioxins, Latex and Rubber (free from allergens). TPE is a resilient, highly elastic material that is composed primarily of styrene-butadiene-styrene block copolymers (also called SBS).
I had no idea yoga mats could be made from latex. I'm glad the Kulae mat does not have any since I'm allergic to latex.
I used my yoga mat in class and found it to be great. It stuck to the floor and kept my feet stable but it wasn't sticky. I wish it was a wee thicker. Because of my weight it was a little hard on the knees but I'm sure it will be fine for someone who can pretzel with ease. Or someone who weighs less than I do.
The two mats came packaged together in a long box. I'm not sure where they were shipped from but the ECOmat is made in Taiwan while the ZUURA is made in China. The ECOmat was then packaged in a long plastic bag. Packaging, shipping, and "made in" can definitely be made more eco friendly. Otherwise the two mats are good products.
Now about the giveaway. Here's what you need to do: Like Kulae on Facebook. Then leave us a comment saying where you would like to do yoga on an outdoor yoga mat this spring.
As I write this spring seems to be the furthest from Mother Nature's mind. It's snowing in central New Hampshire so the thought of doing yoga outside seems to be an impossibility. But I know spring follows winter. And I keep the old addage in mind as light lengthens winter strengthens.