Posted on
September 2, 2008

by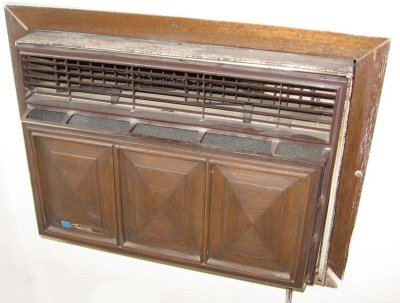 Mickey here, filling in for our intrepid, vacationing proponent of everything green, Allie. Now that it's getting on towards the end of summer, I've been thinking more and more about our air conditioner and how it's been doing out there on the other side of our bedroom wall. I know it's not getting lonely because it's got our neighbors' ACs lined up right next to it, grinding and wheezing away day and night. No, the reason I'm concerned is that it may be feeling a little bored and under appreciated. I'm sure it would like nothing more than to fire up and spin the cobwebs out a bit, but that's not happening. I'm done with it.
I 'd like to say we've gone the whole summer without the AC, but the truth is a really hot spell back in July caused us to break down and run it for about a week and a half. Even then the thermostat was set to 80 degrees. Before that we'd run it occasionally in the evenings to knock the heat down a bit, but since then we've managed to ignore the energy-sapping beast entirely. Here are some of the less-obvious ways we've managed it:
Be a fan of the fan. Ceiling fans are great, but our apartment doesn't have any. Instead I use a couple of small (8") fans and point one wherever I happen to be sitting. I've even caught myself getting chilled in front of one when the temperature in the room is above eighty.
Move over. When sitting on a couch or cushioned chair, the furniture is soaking up all your heat and radiating it back out at you. I find that shifting over a foot or two or moving to the other couch makes me feel better instantly. It's just like using the cool side of the pillow.
Dip your toes. This one is a little more extreme, but really easy. When I just can't seem to stay cool any other way, I have been known to fill a bucket with a few inches of water and an ice pack and put a foot in it. You can do this any time you're sitting still and it cools your whole body.
Check the temperature. We have one of those little electronic weather stations that monitors the inside and outside temps and humidity. When it's cooler outside than inside, such as at night, we open all the doors and windows. During the day we shut everything up again to keep the cooler air in. It's revolutionary, I know.
Suck it up. You don't need to be perfectly comfortable all the time. If you don't use the AC and you live someplace hot (like here in Tennessee), it will get warm. You may even perspire a touch now and then. Even if you do all of the above and any other tricks you may know to beat the heat without filling the room with cool, dry, ill-gotten air you may still feel a bit warm. Just get over it. Or at least turn the thermostat up closer to 80. You'll get used to it, I promise.