Posted on
August 27, 2009

by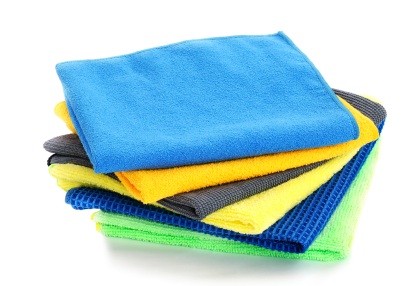 What I've always liked about Allie's Answers (now The Greenists, of course) is its focus on the little things that, cumulatively, can make a big difference. Some of my favorite tips are the simplest ones, the ones so obvious that it almost seems they wouldn't even bear mentioning. This is one of those tips. I warn you in advance that it is not rocket science. (I am not a rocket scientist.) No, it is just a very small thing I do that probably lots of you already do, too. And yet, nearly every time I mention it to someone, I hear, "That's a good idea!" in return. So. Rocket science it is not. But a valid tip it may be. 
What's the tip? Using rags as napkins.
Someday, I will channel my crafty forces into a seemingly simple afternoon project and make myself some lovely and functional cloth napkins out of the many fabric scraps I have on hand. So far I've yet to see that day, however. So in the mean time, I've found a cheap and easy solution to avoid using paper towels or napkins at every meal. A couple years ago, I cut up an old bath towel into napkin-sized rags. I already had a basket of cleaning rags stashed under my kitchen sink, so the new stack just went in there as well (no need to find additional storage space in my cramped little kitchen). The fact that the bath towel scraps are all the same color sets them apart from my cleaning rags, meaning I can dab my mouth with one without wondering if it's the same rag I used to scrub my bathroom floor the previous week. (This is not actually a huge concern, as I rarely scrub my bathroom floor, but that is beside the point.)
My rag napkins may not look like much, meaning I hesitate to use them when entertaining, but seeing as I live alone and eat many dinners on my living room floor in front of the previous night's rerun of The Daily Show, these not-so-fancy makeshift napkins work just fine for me. I am confident that rag napkins are just as excellent a solution for enviro-savvy families as they are for green-minded spinsters, however. Give it a try, I say!