Posted on
August 10, 2011

by

The last time I visited my parents, I pulled into the driveway and my dad immediately said, "What's wrong with your headlights?" I got out to take a look, and sure enough, they were filthy. But it wasn't just dirt that was causing the plastic casing around the headlights to turn cloudy; it was all kinds of road grime and other gunk that was making my lights not shine as brightly as they should. (Apparently it's pretty common. Chalk that up to car maintenance issues I'd never considered before!) A simple car wash wasn't going to fix the problem, so I started looking for possible solutions.
A quick date with Google told me there are lots of chemical solutions available for cleaning headlights, but they're expensive, toxic, and would involve a trip to the store. Fortunately, I found a way to make my headlights look like new again, using only things I already had at home. Here's how I did it! 
What you'll need:
Bucket of water
Two rags
A few tablespoons of baking soda, poured into a cup
A squirt of dish soap or castile soap
What to do:
1. Take everything outside to where your car is parked.
2. Squirt the soap into the bucket of water and swirl it around. Drop one rag into the soapy water.
3. Scrub your headlights with the soapy rag. You just want to get as much extra grime cleaned off before you start removing the caked-on stuff. You may want to let the soapy water sit on the headlights for a little while so the grime will be soaked through, making it easier to scrub off.
4. Use the other rag to dry off each headlight.
5. Pour a little water into the cup with the baking soda in it, just enough to make a paste. Use the wet rag to scoop a dollop of paste out of the cup, then smear it on the headlight. Use your fingers to buff in a circular motion, really scrubbing the baking soda into the plastic. Repeat with the other headlight.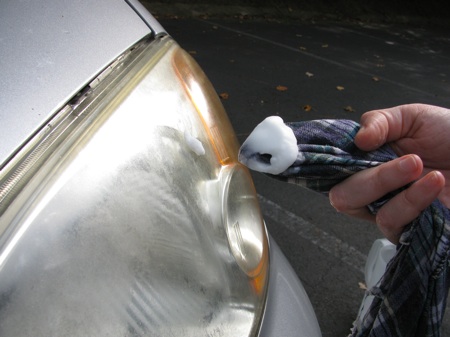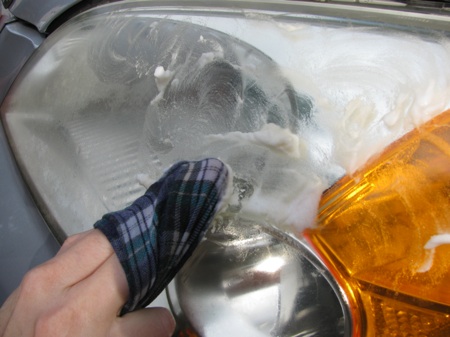 6. Periodically, you may want to splash some water on the headlight to wash off the baking soda, then start again with the buffing. Continue until all the grime is gone and your headlights shine brightly once again.
This does take some elbow grease, and it may take several passes with the baking soda to buff off all the grime. But it's cheap, it's effective, and it doesn't involve toxic chemicals (plus, you can skip the gym that day because your arms just got quite a workout!)
What are your green car maintenance tips?