Posted on
September 27, 2011

by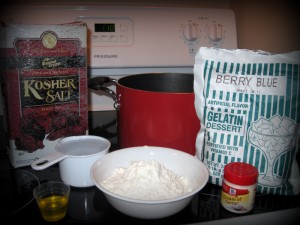 My 3-year-old son, Colin, and I have a new afternoon hobby that I'm very excited to share! We have been hard at work in the kitchen, cooking up creative batches of Sensory Dough, our special version of homemade play dough. Making homemade play dough is super cheap, eco-chic, and incredibly easy. Once you get started, you'll never go back to store bought name brands again! I call it Sensory Dough because the batches we have been making have exciting scents and textures.
Combine the following ingredients in a small pot:
1 cup flour
1 cup water
1/2 cup salt
1 TBSP Cream of Tarter
1 TBSP oil (I use canola oil)
Optional: spices, glitter, gelatin, essential oils, extracts, food dye, etc.
*For organic homemade play dough, use organic ingredients and refrain from adding synthetic colors and scents.
Whisk all of the ingredients well in the pot before turning the stove burner onto medium. As the dough heats up it will begin to stick together. Continue mixing it with a wooden spoon until the dough forms a ball and most of the sticky parts are dry. Once your dough looks ready, turn it out onto your counter top and knead until smooth. The dough will feel very hot. If it's too hot to touch, allow it to cool for a few minutes. Store your homemade play dough in a labeled plastic bag or box. You may enjoy the play dough for as long as it lasts (dough containing food ingredients will last longer if it is stored in the refrigerator).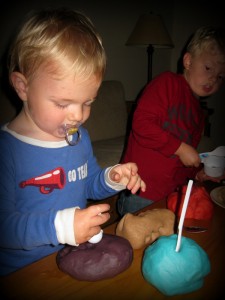 Homemade play dough is unlimiting – if you can imagine it, you can make it! Colin and I enjoy coming up with different combinations of Sensory Dough. Today he asked if we could make Moss Dough (green play dough mixed with bits of soft moss). We haven't tried that one yet, but here are a few of our favorites:
1. Breakfast Blend: Replace 1 cup of water with 1 cup of coffee. Mix in coffee grinds.
2. A Day at the Beach: Replace canola oil with coconut oil. Mix in clean sand.
3. Apple Pie (my favorite!): Mix in ground cinnamon and cloves.
4. Chocolate Chip Cookie Dough: Mix in vanilla extract. When the dough has cooled completely, knead in chocolate chips.
5. Scented Rainbow Dough: In place of food coloring, use flavored gelatin (about 3 TBSP). This dough will feel a little bit sticky because of the sugar in the gelatin. It helps to knead it with a small bit of flour.
6. Watermelon Dough: Mix in watermelon flavored gelatin and watermelon seeds.
7. Pumpkin Pie: Mix in orange food coloring and pumpkin pie spice.
8. Oatmeal Breakfast: Mix in oatmeal and cinnamon.
9. Pizza Dough: Mix in Italian seasoning with a dash of garlic powder.
10. Lemon Bar: Mix in grated lemon zest, lemon extract, and yellow dye.
Of course it is important to let your little one know that even though Sensory Dough smells delicious, it is NOT for tasting (perhaps I will share my favorite edible play dough recipe next time!). It also makes an excellent gift when the plastic bag or box is wrapped up with a pretty fabric tied with a ribbon and a cookie cutter (ex. Apple Pie Dough, wrapped with a beautiful printed apple fabric, tied with raffia and an apple cookie cutter).
Making and enjoying homemade play dough with your little one will create memories that last a lifetime. Have fun!