Posted on
December 8, 2011

by
In what I consider to be a long, sad turn of events, Christmas and the holiday season has arguably become the most excessive time of the year.   Christmas certainly isn't about modern day consumerism or consumption, but these distractions have often left many beautiful Christmas traditions dismissed or forgotten.  So as more people look to "go green" and shop locally or buy more responsibly, here is a small list of "green" traditions that may be worth reviving, or in the very least, it's time to make them slightly more popular again:
The Christmas Branch
Interestingly, the "traditional" Christmas tree hasn't been a tradition for that long.  Although the original Christmas tree may have come about in the 15th century, it wasn't a common practice for individual households to have them until much later in the 19th century.   There is also some evidence to suggest the idea of a Christmas tree originated with a much older Pagan tradition of bringing evergreen boughs into a house in the hopes of it driving away the impending darkness associated with Winter Solstice.  Regardless of the actual origin of the Christmas tree, decorating the house with branches or boughs has a much longer history than cutting down a whole tree.  So maybe it's time to skip the argument over artificial vs. real Christmas trees and just head out into the woods and pick out a branch.
Make Your Own Ornaments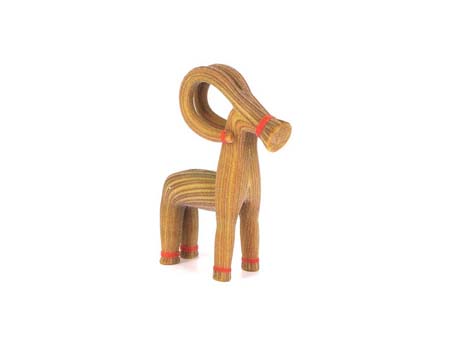 While Christmas tree ornaments can only be as old a tradition as Christmas trees, there are many older decorating traditions that have since evolved into ornaments- one of these traditions is the Yule Goat.  Although, this example takes it to the extreme, making a simple straw goat to decorate one's house holds much more appeal to me than shopping at Hallmark for decorations.  So whether you make popcorn or cranberry strands, a popsicle sled, or a God's Eye, homemade ornaments will generally always be cheaper and more meaningful than a piece of molded plastic bought from a store.
An Orange in Your Stocking
My Grandmother used to tell me stories of how excited her and her siblings were to receive an orange in their stockings come Christmas morning.  For them, it was a rare and wonderful treat that they remembered fondly but I assumed it was an odd tradition unique to my family.  Recently, however, I learned of the symbolism of an orange at Christmas.  Turns out, one of the famous legends of St Nicholas that offers an explanation as to why we leave out Christmas stockings is now represented by an orange [from wikipedia]:
Very long ago, there lived a poor man and his three very beautiful daughters. He had no money to get his daughters married, and he was worried what would happen to them after his death.

Saint Nicholas was passing through when he heard the villagers talking about the girls. St. Nicholas wanted to help, but knew that the old man wouldn't accept charity. He decided to help in secret. He waited until it was night and crept through the chimney.

He had three bags of gold coins with him, one for each girl. As he was looking for a place to keep those three bags, he noticed stockings of the three girls that were hung over the mantelpiece for drying. He put one bag in each stocking and off he went. When the girls and their father woke up the next morning, they found the bags of gold coins and were of course, overjoyed. The girls were able to get married and live happily ever after.

This led to the custom of children hanging stockings or putting out shoes, eagerly awaiting gifts from Saint Nicholas. Sometimes the story is told with gold balls instead of bags of gold. That is why three gold balls, sometimes represented as oranges, are one of the symbols for St. Nicholas. And so, St. Nicholas is a gift-giver.
  Although I don't expect most kids would rave about receiving an orange in their stocking, they may still appreciate the story behind it.
Giving Consumable Gifts

And by "consumable" I don't mean random, modern day consumption but rather edible treats or holiday experiences.  Giving the gift of food and treats used to be the mainstay of any Christmas celebration and homemade used to be the only option.  Whether it was a Christmas dinner of cabbage, or searching your tree for a spider web in hopes of having good luck, the memories made over food and experiences will last much longer than any physical gift.
So what are your favorite "green" holiday traditions?