Posted on
December 20, 2011

by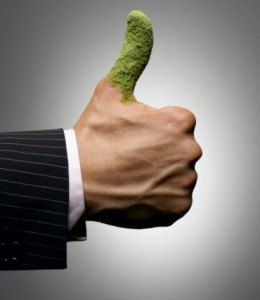 The going green movement has swept the nation over the course of the past several years. People are cutting back on waste in their homes, buying more fuel-efficient cars and recycling with a newfound sense of urgency and responsibility.
And, while these changes are great for individuals and homes, what can businesses do to contribute to this increasingly eco-friendly lifestyle?
The answer surprisingly comes in small changes, which can be used by companies of all sizes! 
1) Email Marketing, Social Media and Linked In
Anything you can do to reduce the use of paper and ink is a great cost-saving and green move. Not only does this include printing documents, but also extends to other business needs. Cutting back on large-scale marketing materials, business cards and booklets is harder to do, but is great for the environment and can save you a lot of cash. Though print items may still be a necessity on occasion, you can replace newsletters and promotional items by using email marketing software and social media sites. LinkedIn can be used in place of business cards and even resumes.
2) Energy Efficiency
Being energy efficient at work means more than just turning out the lights in the bathroom. If you're ready for an upgrade, purchase energy star products and always unplug them at the end of the day and over the weekends. Unplugging your bigger energy users like printers, copiers, fax machines and kitchen or break room appliances is an excellent way to cut back. Program your HVAC system to scale back over the weekends if possible and even check for water leaks to eliminate waste.
3) Reduce, Reuse, Recycle
The basic principles of going green apply to the office too. In addition to saving paper and energy, making small cuts like using ceramic mugs instead of paper cups, installing a water cooler, using real towels instead of paper towels, and buying dishes once instead of frequently purchasing new paper products can save a tremendous amount of money and waste in the long run.
4) Switch Up The Lighting
Taking advantage of natural lighting and using energy-efficient light bulbs by replacing incandescent lighting with compact fluorescent bulbs can be a great change of pace and a huge energy saver. Energy star bulbs are amazingly efficient and look better than what you probably have now.
5) Telecommuting
Encourage employees to conduct meetings via video conferencing or phones instead of driving here and there. While face-to-face meetings are still sometimes necessary, saving gas—whether employees are reimbursed or not—will help both the individual and the business as a whole. Replace driving with telecommuting whenever possible and you'll find that a little bit goes a long way.
Going green doesn't happen overnight. It's a process that takes a while, and requires the implementation of many small changes. But, with patience, dedication and the know-how to make it work, going green can save your business money while helping to preserve the earth.