Posted on
October 13, 2011

by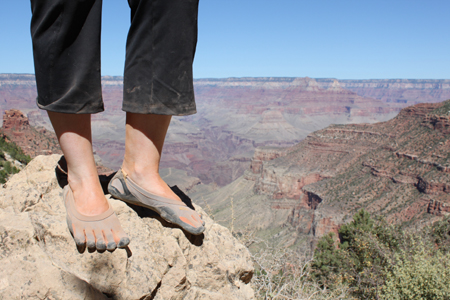 After a brief track and field career in High School, I developed a perception of myself that included the idea that I was a runner.
After the distractions of college and a career, though, I came to a startling realization:  I could no longer run.
It wasn't that age or injury had caught up to me, it was just that I was no longer finding the time to run.  And without finding the time, what used to be a simple two mile run became impossible- in fact, a simple half mile run was equally as impossible.
So after my husband took up running and finished his first marathon with me on the sidelines, I decided it was finally time to make that perception of myself a reality.  I started running again.
I had my own grand plans of running a marathon myself one day, but I knew I needed to start smaller and decided to aim for a 10K instead (6.2 miles).    During my track and field days, 2 miles was the longest distance I had ever trained for.  So after months of many, many small runs, I was finally able to build myself back up to a 2 mile distance.  I was incredibly proud of this accomplishment and was looking forward to continued success with a 10k race.
But almost as soon as I surpassed two miles, I started to hit trouble.  My knees hurt.  In fact, they burned.  My knees would swell after every single run and I would take ibuprofen to counteract the swelling.  I saw my doctor.  I bought new shoes.  I started seeing a chiropractor.  Nothing helped.   Then my stomach started bothering me from the amount of ibuprofen I was taking.
I suffered through my first 10K race, crossed the finish line, and told myself I wasn't a runner and promised myself I would never run again.
After the initial despair faded, I found myself still hoping for a cure and my chiropractor suggested orthotics- the idea being that the arches in my feet had collapsed and were causing my knee pain.  He was right in that wearing othotics while running made the knee pain go away.  Only problem was I was in even more pain every second of the day I wasn't wearing the orthotics.
I hated being so reliant on a ridiculous little device and rejected the idea that this particular issue was beyond the healing ability of the human body.
So I turned to the internet and found barefooting.
The theory behind barefooting is that there are small, intrinsic muscles in your feet that help stabilize your foundation (and strengthen your arches) that are not exercised when encased in a shoe.  Barefoot proponents also theorize that fewer injuries occur while barefooting, partially due to the stronger muscle foundation in your foot which helps with balance, but also because barefooters land lighter and keep better form due to sensory feedback from the foot- all of which helps prevent stress injuries.
So what does this have to do with environmentalism?
Well, if you haven't read Born to Run by Christopher McDougall, I highly suggest it.  Not only does running barefoot support a faith in the human body and its incredible capabilities, but it also suggests running shoes are the result of corporate marketers who first created a problem by telling people to run incorrectly, but then solved the problem with their cleverly placed product.  And after the initial success, running shoe manufacturers created 'labs' that then provided the medical information for the budding profession of podiatry and, of course, the conclusions suggested the need for shoes.
Unnecessary consumption not enough of a reason?
Well, there's also the connection to the ground, the sense of the seasons, and a meditative awareness that also comes from being fully aware of your foot in contact with the ground.  And I'm not the only one who thinks so.
But in case you haven't noticed, the picture at the top of this post isn't truly barefoot- but a popular "minimalist" shoe instead.  And, more specifically, those are my feet- doing a small hike of the Grand Canyon weeks before I completed my first marathon.
And although one day I would like to take the leap towards true barefooting and eliminate running shoes from my life entirely, for now the "minimalist" shoes are a step in the right direction for me and possibly the environment as well.  Not only do these shoes use less material than standard running shoes, they also need to be replaced far less often (mine lasted 2 years while training for a marathon while my husband went though 3 pairs of standard running shoes).  And when they do finally need to be replaced, it isn't due to an unseen issue like "the cushioning has worn out despite the fact that the shoe looks brand new" like you see in most thick soled running shoes.  Nope, these shoes only need to be replaced once you see your foot poking through to the pavement… and even then replacement is merely a suggestion.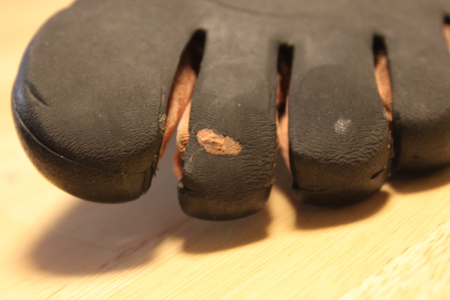 Happy Running!