Posted on
December 7, 2009

by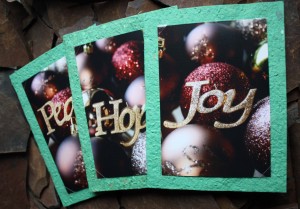 Plantable Photo Greeting Card Set w/ Parsley Herb Seed Paper from Greetings that Grow
I'm sure many of you are already way ahead of the card-sending, gift-giving game, but I'm only just beginning! When you wait this late to start your holiday giving routine, it's easy to feel rushed and ignore your green tendencies when gift-wrapping and sending cards and gifts. I've been fortunate to find several tools that make your holiday giving routine greener — and without much extra effort.

On the holiday card front, you could consider using online greeting sites or websites like Evite (if you don't already) to send your greetings and holiday party invitations. I love the way Evite allows you to really personalize invitations. But if you're like me and prefer to send and receive greetings in the mail (I'm just old-fashioned that way), why don't you try sending a card that gives back to the Earth?
Greetings that Grow are greeting cards and envelopes that can be planted after the recipient is through enjoying the card. This particular set of three holiday cards is made with paper handmade using recycled, post-consumer materials mixed with parsley herb seeds. The artist did not use any starches, dyes or bleach to change the paper. They're adorned with beautiful photos, which can't be planted but are beautiful enough to keep, possibly for future decorations. Thanks to the wonder that is Etsy, you can easily contact the seller and have her personalize the cards too.
I'm sure there are friends and family who you won't be able to see in person this December but still want to share a gift with. Shipping large boxes may be unavoidable, but thanks to GreenShipping.com, it's easy to calculate and purchase carbon offsets for your package. You simply enter your tracking number from UPS, FedEx or the USPS and the site calculates the footprint of your shipping based on the weight of your package, distance it's traveling and method of travel. You can purchase your offset right there.
While we're at it, don't forget to reuse as much as possible for the packaging and shipping process. I like to use newspaper and shavings from my paper shredder to fill the insides of boxes. If you receive a package that has those obnoxious packing peanuts, take some time to find a place that will accept them for recycling at this website. You can always use newspaper or magazine pages to wrap gifts. The Modern Mom and I have a habit of reusing the same boxes for shipping so many times that they nearly fall apart.
What are your tips for sending green wishes to family and friends?