Posted on
March 25, 2009

by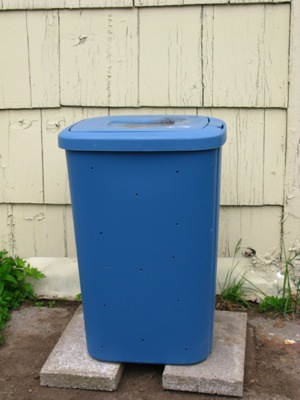 After spending my evening running around my neighbors' garbage dump garden chasing after the little dog who wanted to eat kitchen scraps from their compost for the 86 gazillionth m@#$#Q@ f@##$#g time, I thought I'd do a post about things you cannot compost. 
The list includes, but is not limited to:
Ice cream containers
Plastic anything
Plastic coated anything
Meat
Bones
Rusty Cans
Glass
Also, please, please, please don't just throw garbage on the ground outside and call it a compost pile.  It's not.  Chiot's Run has a great post about a three-bin system.  And last year, I made my own bins from old garbage cans (pictured above).  This is a great way to compost without driving your neighbors crazy attracting every animal in the neighborhood.
And, another thing: please don't pour your meat grease, driveway tar, or other liquid waste down the drainage grate at the edge of your yard. It makes my soul cry is bad for our waterways.

Okay, if you want a real guide on composting, check out this one.  It's awesome.
In related news, we're getting a fence!!!!