Posted on
June 4, 2009

by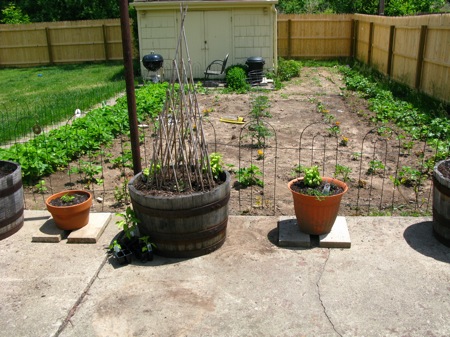 Thought I'd show you some pictures of this year's garden. 
It's a little more simple than it was last year.  I'm not growing any lettuce and I got most of my plants from the local nursery instead of starting from seed.
The strawberries came back full force this year.  The varieties I have are supposed to fruit all season, so we should have a lot of strawberries.  I'm going to start freezing right away this year.  All but one of my blueberry bushes came back (although, they are still very small).  And I have two types of raspberries and a blackberry plant on the side of the tool shed.  They didn't fruit last year, but hopefully, they will this year.
I'm waiting for an order of bird netting, but until it comes, I've tried hanging old CD's from the edging to scare the birds away.  It's not working all that well.  By the way, I don't love that little green wire fence edging in the top picture, but it keeps the dogs out (for the most part).
I'm growing several different kinds of tomatoes.  Plum, a few heirloom varieties, and some yellow grape tomatoes.  I am growing one plant from the cherry tomatoes I grew last year, but I'm growing it in a whiskey barrel to keep it from getting out of hand.
I'm also growing several different kinds of peppers in the ground and in containers.  I love growing peppers.  Last year I roasted them on the grill and marinated them in oil and garlic.  We kept those in the freezer and at them on pizza and sandwiches.  I was so upset when they ran out.  I'm going to try to get a few more batches in this year.
And I've planted marigolds in with the tomatoes and peppers to try to keep the pests away naturally.
The herb garden was in the shade when I went to take pictures, so I don't have a picture of the whole thing.  The oregano, thyme and sage came back from last year.  The sage is flowering for the first time.  So pretty!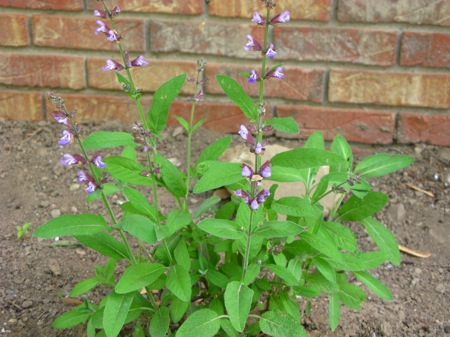 The rosemary died over the winter.  I replaced it with lavender, which will come back every year.  Oddly, the parsley from last year lasted through the winter and is doing well.  And I had some volunteer cilantro plants I'm taking full advantage of.  I also planted some basil and one small rosemary plant in the herb garden.  I'm growing catnip, trailing rosemary, and eucalyptis in pots.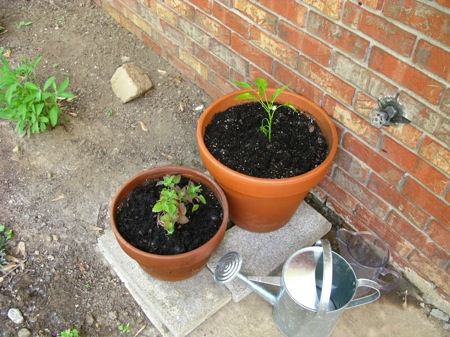 If I have time this summer, I hope to plant some lavender in the veggie garden, along the fence, because it's a pain to mow that little stretch of grass.  I'm thinking of trying lasagna gardening in the corner of the yard, possibly with more herbs, because the grass is weird over there.  And we really need to work on landscaping the front of the house.  But, I also have a lot going on work-wise this summer, so we'll see.
The best part of gardening?  Now that our back yard is fenced in, these guys get to hang out in the grass while I work.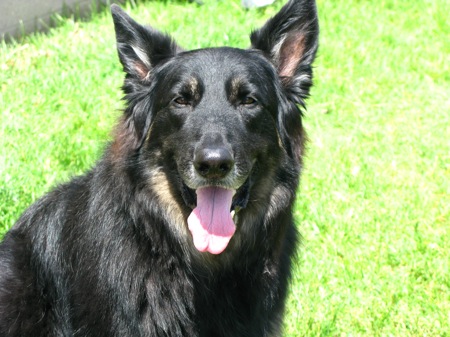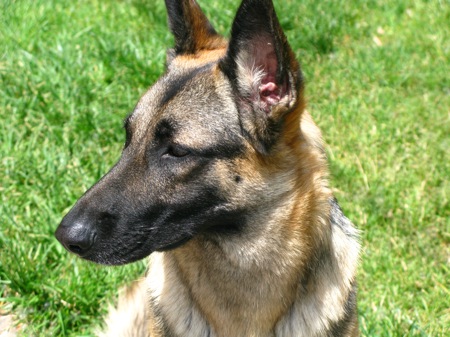 Are you growing anything this year?