Posted on
January 31, 2011

by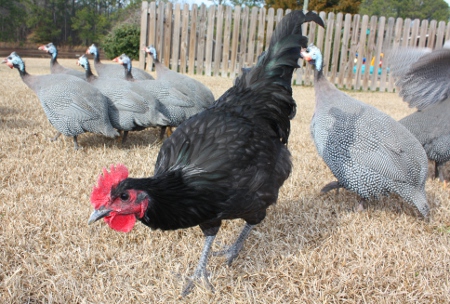 Ask many people about the idea of raising chickens in an urban or suburban setting and you're likely to get the following responses. "Isn't that illegal?" "They're too noisy!" "They're too stinky!" "That's just weird."
I can't say much about that last concern. After all, keeping chickens in large population centers is not all that common. By definition that would be weird. However, if you make your decisions based solely on whether something is normal or not, well, I've lost a little respect for you. That's right. I don't even know you and I'm already judging you.
The other three are valid concerns, however. First, let's talk about the illegal part. It is true that some cities ban all livestock from the city limits and consider chickens livestock, but this is far from the case in many cities. There are many major metropolises that now allow citizens to keep four or five hens at their residence given certain restrictions. It's best to check your local ordinances before investing any money or effort on chickens, but I did find at least one site that tries to summarize the laws by city.
Now on to the noise concern. Roosters are noisy. There is no way around this. In fact, most chicken-friendly cities still banish roosters. Stick to the hens, which are much quieter and lay eggs. Hens rarely make any noise and the sounds they do make are generally very soft and don't carry.
Unlike the noise, the smell is something that actually requires a little work to prevent. The birds themselves have no discernable body odor, but their waste most definitely does. If you're not up on your fecal euphemisms, waste means poop. Chickens poop. A lot. If you're keeping a small flock (up to four hens) this shouldn't be a major problem if you take a few precautions. If I were doing the backyard suburban thing, I'd most definitely build a chicken tractor. This is a portable pen that can be moved easily. The pen should be moved every one or two days to keep the waste from building up and the birds from eating every speck of grass under the pen. This small amount of waste scattered widely over your yard will fertilize the grass and keep down the smell. If you're going to keep the birds in a permanent pen, make sure to keep straw on the floor and clean this out regularly. You can compost this poop straw and fertilize your garden (just make sure to let it compost long enough to prevent microbial contamination). Properly cleaned up after, people have been successful raising a couple of birds on the balcony of their high-rise apartment buildings, so it's very doable if you have a back yard.
Hosting an urban flock does have many rewards for the effort. Chickens can be beautiful birds. If you clip their wings (trimming the primary flight feathers, which is as harmful and painful as a haircut) and have a fenced yard, you can let them wander. They'll consume insect pests and turn over your compost pile while scratching for grubs, speeding up the decomposition. The fresh eggs are not only better for the environment than the store-bought industrial farm eggs, they also taste better. You may notice that the yolks are more orange than the typical pale yellow of store-bought eggs, but this is mainly because your birds are healthier. Eggs this fresh don't peel well when boiled, but each hen is likely to lay more than a hundred eggs a year during her peak laying years so having a few older eggs around for boiling shouldn't be difficult.
Finally, if you decide to take on this project, I suggest that you help preserve endangered heritage breeds. Take a look at the American Livestock Breed Conservancy's list of endangered chicken breeds and either order your chicks from conservation-minded hatcheries like Sand Hill Preservation or keep those breeds in mind while searching the local classifieds or sites like Craigslist or eBay for your flock.
The best thing about keeping chickens is that even if they do decide to murder you, unlike large dogs and any cat, they can't actually carry out a mauling efficiently. You'd have to sit very still for a very long time for them to pull it off and most healthy adults can outrun a chicken.
If you have any questions, feel free to ask in the comments. I'll make sure to answer any you may have as soon as possible.
This is our second post on keeping chickens. Howling Hill posted on microsteading with chickens here.