Posted on
August 13, 2007

by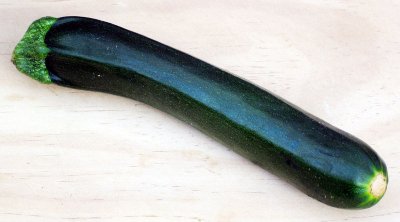 This is our first year participating in a CSA program. I love getting a big bag of fresh organic veggies every Saturday. They were picked the day before and taste so fresh.
The only thing I don't like about it? Zucchini. I am not a fan. And this has been a bumper year for zucchini. We're drowning in it! It's everywhere!
Here are some ways to prepare zucchini that don't taste too much like zucchini.
When life hands you zucchini make zucchini muffins! Here's my recipe:
3 eggs
1/2 cup applesauce
1/2 cup vegetable oil
2 1/2 cups grated zucchini
1 1/2 to 2 cups sugar (depending on how bad your sweet tooth is)
3 cups flour or gluten-free baking mix
3 tsp. cinnamon
1/2 tsp. ground cloves
1/2 tsp. nutmeg
1 tsp. powdered ginger
1 tsp. baking soda
1/4 tsp. baking powder
1 tsp. salt
1/2 cup chopped walnuts
Grease muffin pans and preheat oven to 325 degrees. Beat eggs until foamy. Add applesauce, vegetable oil, zucchini and vanilla. Mix in sugar. In another bowl, mix together the dry ingredients, except for the walnuts. Add the dry ingredients to the wet ingredients, a little at a time until fully mixed. Stir in walnuts. Spoon into muffin pans, leaving room for the muffins to rise. Bake for 12-15 minutes, or until a toothpick inserted in the center comes out clean.
These muffins freeze very well. To thaw, pop one in the microwave for 45 seconds and enjoy!
Another one of my favorite ways to eat zucchini is zucchini fritters. They're hearty and wholesome, and they don't taste like zucchini at all!
Grist has a recipe for dragon slime (zucchini bread with blueberries).
Or, try some of Dianne's delicious zucchini recipes: (rich and sinfully good)Zucchini Bread, Summer Pie, or Goat Cheese Pizza with Zucchini and Cherry Tomatoes.
Maybe drowning in zucchini isn't such a bad thing after all.