Posted on
August 28, 2007

by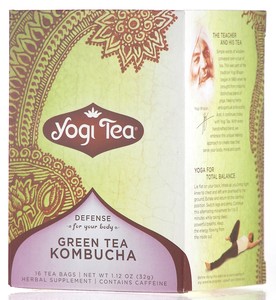 After more years than I have fingers as a coffee addict, I quit cold turkey about six months ago. Now I get my morning jolt (and a bunch of antioxidants) from drinking green or white tea. My new favorite is Yogi Tea's Green Tea Kombucha (pronounced Kom-boo-chaw).
Yogi Tea uses organic ingredients whenever they can. Green Tea Kombucha is made with Organic Green Tea Leaves, Organic Lemongrass, Organic Spearmint, Kombucha, Natural Passion Fruit Flavor and Natural Plum Flavor.
Yogi Tea says, "This effective blend of green tea and kombucha is designed to enhance your immune system, fight fatigue, and detoxify your body." In addition to being good for you, it has a light fruity taste, that isn't over powering. And I find it's easier on my stomach first thing in the morning than plain green tea.
The packaging is simple and recyclable. Plus, Yogi Tea boxes have yoga positions featured on the side and cute little sayings on the tea bag tags.
This morning, my tea bag said, "The universe is the stage on which you dance, guided by your heart."