Posted on
April 24, 2008

by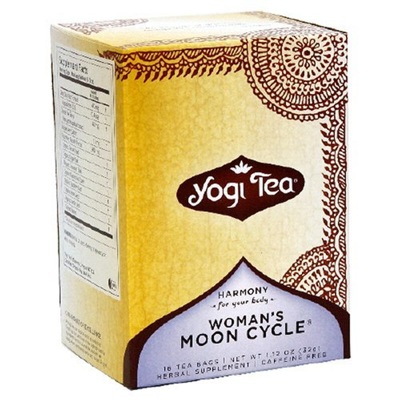 Well, I bet you can guess what this tea is for.  And if you're a guy feel free to skip this post (although you're welcome to keep reading, too).
I don't know if the magic of this tea is in the placebo effect, or if the ingredients really do help alleviate PMS and menstrual symptoms, and quite frankly, I don't care.  When you're feeling bloat-y and cranky and cramp-y and sore, just feeling like there's something you can do to help yourself is, in itself, a huge boost.  And it tastes good.  It has a light, fruity flavor, and is a totally enjoyable beverage.
From Yogi Tea:
Rely on our specially crafted wellness formula to help relieve the minor tensions and discomfort of your monthly cycle. We combine dong quai and Chaste Tree Berry to address common PMS symptoms like breast tenderness, constipation and dizziness. We then add juniper berry and parsley leaf to help ease water retention and promote balance. Plus, fragrant chamomile helps to relax the mind and soothe the body.* Infuse your moon days with harmony and comfort with a delicious cup of Woman's Moon Cycle.

* These statements have not been evaluated by the FDA. This product is not intended to diagnose, treat, cure, or prevent any disease.
If you're pregnant or nursing, you can't use this tea.  But if you aren't, go for it.  I feel like it's a cup full of sanity when I'm at the end of my rope.   There's even a yoga posture "for natural comfort" on the side of the box to aid in your relaxation and relief.
And I think the quotes on the tea bag tags are nicer on the Women's Moon Cycle tea bags.  The last one I had said, "I am beautiful, I am bountiful, I am blissful," which is awesome, because at the height of PMS, I'm pretty sure this one would drive me to tears.